Dale Earnhardt Jr hopes new Hendrick deal allows him to fulfil his potential
| | |
| --- | --- |
| By Diego Mejia | Saturday, September 3rd 2011, 03:37 GMT |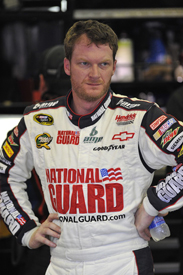 Dale Earnhardt Jr has admitted his performance at Hendrick Motorsports so far has not been good enough, but hopes to fulfil his potential with the leading NASCAR Sprint Cup outfit after committing to it until 2017.
NASCAR's most popular driver is currently in his fourth year with the four-car squad, a period in which his team has seen a number of changes, including three crew chiefs.
In his best season with Hendrick back in their first year together in 2008, Earnhardt won two non-points races, then scored a points-paying victory at Michigan and went on to make the Chase only to finish last among the play-off contenders.
The 36-year-old American says he is not content with his performance thus far but is glad he now has the time to prove his worth with Hendrick.
"I would give me barely a passing grade at this time," said Earnhardt when asked how he rated himself at Hendrick thus far. "I'm not content at all and I feel like I've been given some really good opportunities there and just haven't been able to capitalise on it. Haven't been able to go to the racetrack and get on the racetrack and go fast.
"This year we made a lot of changes in the off-season, I've said that damn sentence so many damn times this year, but we had a lot of changes and this year things started to swing upward for me and I started to feel like we might be on the right track and my confidence is up and I feel good about what's going on there.
"I like to see how we can do in the future over the next 12 to 18 months, what kind of growth me and Steve [Letarte] have. I really, really like working with him and I'm satisfied with the performance that he has and how he works and goes about running his race team. I'm satisfied with the way his cars drive.
"I'm not anywhere near at all satisfied with what I've accomplished so far. I feel like that motivates me to try to go in there and do what I want to do and accomplish what I want to accomplish with that company and that's why I feel fortunate to have that opportunity with the new extension."
Earnhardt is currently ninth in the points standings with only two races left before the Chase field is set. He says he would be relieved to be among the title contenders for only the second time since joining Hendrick while admitting he and his team have made a number of costly mistakes during the regular season despite a strong start to the year.
"Everyone expects you to make the chase," said Earnhardt. "If you don't make the chase you get that tag on you. You get labelled when you don't make the chase and I want to avoid being in that situation.
"There are only a few drivers that get to make it, it is a pretty competitive sport but if you can be consistent and be smart... I made a few mistakes and a few driver errors that I really wish I could have back now, that I tried to tell myself not to make all year.
"I did pretty good, then we got along in the middle of the summer there and I started making a couple of mistakes. Blowing the left front tyre coming onto pit road in Kentucky, and a couple of other places like that, that took away finishes that we needed.
"I know that if you can just be smart in the kind of equipment and the kind of team I have I should make the Chase. We are plenty good enough to do that, but we put ourselves in a tough position going into these last two races over the summer time with a couple mistakes that I made and I'm sure Steve might stand up here and tell you he made a couple himself too."
Earnhardt's best season to date since the Chase format was implemented came in the inaugural year of the play-off in 2004. He won six races on the way to fifth in the standings while driving for Dale Earnhardt Inc, the team founded by his legendary father.