Marc VDS' Maxime Martin gives Ford its first World GT1 pole of 2011 in China
| | |
| --- | --- |
| | Saturday, September 3rd 2011, 03:03 GMT |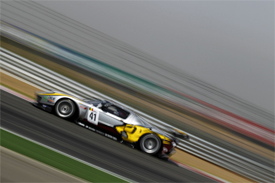 A superb last-gasp lap effort from Maxime Martin put the #41 Marc VDS Ford on pole position for the GT1 World Championship qualifying race at Ordos in China.
Richard Westbrook looked like he had done enough to give himself and his JRM Nissan co-driver Peter Dumbreck a second straight pole as he set a lap of 1m38.669s in Q3 and then headed for the pits with a minute still to run.
While most were already back in their garages, Martin mounted a final pole shot as the chequered flag fell. For the first two thirds of the lap it looked like he would be staying in third, before a mighty final sector to earn Martin and his co-driver Frederic Makowiecki pole by 0.134 seconds over the Nissan. The result was the first pole for a Ford team all season.
Markus Winkelhock was third in the #38 All-Inkl Lamborghini. He and co-driver Marc Basseng, currently second in the points, will hope to take advantage of championship leading JRM Nissan crew Lucas Luhr and Michael Krumm lacking a little pace this weekend. Laden with success ballast, they had to dig deep to get through both Q1 and Q2 before taking seventh on the grid.
The two Sumo Power Nissans completed the top five, with Tomas Enge and Alex Muller qualifying sixth in the only Aston Martin to reach Q3. Their team-mates Darren Turner and Stefan Mucke were a surprisingly lowly 13th.
With the ex-Swiss Racing Team Lamborghinis now in DKR's hands, the field was back up to 18 cars - although the returnee Murcielagos will both start from the back row. Local favourite Ho-Pin Tung's World GT1 debut also got off to a low key start as he was unable to get his Exim Corvette beyond Q1.
Pos  Drivers                  Team/Car              Time       Gap
 1.  Martin/Makowiecki        Marc VDS Ford         1m38.535s
 2.  Westbrook/Dumbreck       JRM Nissan            1m38.669s  + 0.134s
 3.  Winkelhock/Basseng       All-Inkl Lamborghini  1m38.768s  + 0.233s
 4.  Catsburg/Bernoldi        Sumo Power Nissan     1m38.909s  + 0.374s
 5.  Campbell-Walter/Brabham  Sumo Power Nissan     1m39.222s  + 0.687s
 6.  Enge/Muller              Young Driver Aston    1m39.543s  + 1.008s
 7.  Luhr/Krumm               JRM Nissan            1m39.561s  + 1.026s
 8.  Pastorelli/Schwager      All-Inkl Lamborghini  1m40.002s  + 1.467s
 9.  Dusseldorp/Piccione      Hexis Aston           1m39.141s  Q2
10.  Hohenadel/Piccini        Hexis Aston           1m39.281s  Q2
11.  Jimenez/Rossi            Exim Corvette         1m39.290s  Q2
12.  Nygaard/Hirschi          Belgian Ford          1m39.383s  Q2
13.  Turner/Mucke             Young Driver Aston    1m39.466s  Q2
14.  Clairay/Leclerc          Belgian Ford          1m39.809s  Q2
15.  Tung/den Boer            Exim Corvette         1m40.204s  Q1
16.  Hennerici/Leinders       Marc VDS Ford         1m40.420s  Q1
17.  Leuenberger/Lauck        DKR Lamborghini       1m40.642s  Q1
18.  Kennard/Bruck            DKR Lamborghini       1m42.683s  Q1