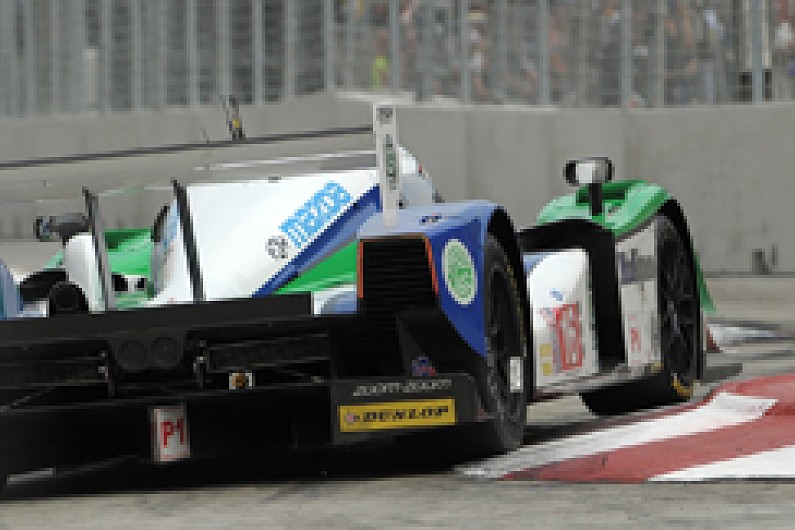 Guy Smith earned Dyson Racing pole position for the American Le Mans Series' inaugural race at Baltimore, edging out the sister Lola-Mazda of Steven Kane by just over 0.1s.
Smith had held top spot from his opening lap, but as grip levels improved Kane looked like he may have stolen pole, moving 0.015s clear with just one minute remaining.

Smith was on his own flyer however and almost immediately reclaimed top spot, dipping into the 1m27s bracket to settle the issue.
Life was made easier for Dyson Racing as the Muscle Milk Lola-Aston Martin of Klaus Graf and Romain Dumas was unable to take part in the session due to an electrical loom problem suffered in practice.
There was a similarly dramatic finish in the LMPC class as the #06 Oreca of Gunnar Jeanette traded times with the #37 of Kyle Marcelli.
Jeanette ultimately claimed the LMPC pole, but was made to sweat as Marcelli had one last flyer as the chequered flag fell - eventually finishing just 0.4s shy.
Elton Julian may also have featured in the pole battle, but he collided with the tyre barriers with eight minutes to go. The resulting damage caused a short red flag period, and dropped Julian down to third overall.
Dirk Werner meanwhile secured pole position for the #55 BMW M3 GT in what was an acrimonious GT qualifying.
Patrick Long in the #45 Porsche 911 clashed in the final minutes with Jaime Melo in the #62 Risi Ferrari after complaining of being held up on a flying lap.
Long, who also had a dispute with Jan Magnussen in the #4 Chevrolet Corvette, tapped Melo through the opening set of corners, delaminating the Ferrari's rear tyre and causing Melo to abandon his car on circuit.
Long was black-flagged but looks set to keep third, with Magnussen just missing out on a first pole of 2011 for Chevrolet in second.
Melo finished sixth fastest, behind the second #56 BMW of Joey Hand and the #3 Corvette of Tommy Milner.
In GTC, an inspired piece of quick thinking helped Jeroen Bleekemolen take pole for the #54 Black Swan Porsche.
Bleekemolen had lost a wheel as he pulled into a run-off zone early on in the session, but he got out the car, picked up the wheel and put it in the passenger side, before belting himself back in and returning to the pits.
With all tyres marked, the team were able to reattach the wheel and get Bleekemolen back on track. He duly secured pole by more than 0.3s.
Pos  Cl   Drivers                     Team/Car                Time
01.  P1   Dyson/Smith                 Dyson Lola-Mazda        1m27.750s
02.  P1   Al Masaood/Kane             Dyson Lola-Mazda        1m27.896s
03.  PC   Jeannette/Gonzalez          CORE FLM                1m29.407s
04.  PC   Nicolosi/Boon/Marcelli      Performance Tech FLM    1m29.473s
05.  PC   Lux/Zugel/Julian            Genoa FLM               1m30.407s
06.  GT   Auberlen/Werner             BMW                     1m31.362s
07.  GT   Gavin/Magnussen             Corvette                1m31.950s
08.  GT   Bergmeister/Long            Flying Lizard Porsche   1m31.992s
09.  GT   Muller/Hand                 BMW                     1m32.010s
10.  GT   Beretta/Milner              Corvette                1m32.224s
11.  P1   Burgess/McMurry/Lewis       Autocon Lola-AER        1m32.587s
12.  GT   Melo/Vilander               Risi Ferrari            1m32.699s
13.  GT   Henzler/Sellers             Falken Porsche          1m32.772s
14.  PC   Bennett/Montecalvo          CORE FLM                1m32.983s
15.  PC   Dobson/Lewis                PR1 Mathiasen FLM       1m33.051s
16.  GT   Law/Neiman                  Flying Lizard Porsche   1m33.964s
17.  GT   Sharp/van Overbeek          Extreme Speed Ferrari   1m34.151s
18.  GT   Junqueira/Wilden            RSR Jaguar              1m34.360s
19.  GT   Miller/Maassen              Miller Porsche          1m34.609s
20.  GT   Jones/Moran                 RSR Jaguar              1m35.911s
21.  PC   Nicolosi/Boon               Performance Tech        1m36.046s
22.  GTC  Pappas/Bleekemolen          Black Swan Porsche      1m36.794s
23.  GTC  Keen/Sweedler               Alex Job Porsche        1m37.160s
24.  PC   Marcelli/Ducote/Ducote      Intersport FLM          1m37.569s    
25.  GTC  Davis/LeSaffre              Black Swan Porsche      1m37.917s
26.  GT   Brown/Cosmo                 Extreme Speed Ferrari   1m38.674s
27.  GTC  von Moltke/di Guida         TRG Porsche             1m41.131s
28.  GTC  Potter/Stanton              Magnus Racing Porsche   1m41.462s