| | |
| --- | --- |
| Valentino Rossi frustrated by MotoGP's testing limits | |
| | |
| --- | --- |
| By Toby Moody and Matt Beer | Friday, September 2nd 2011, 17:07 GMT |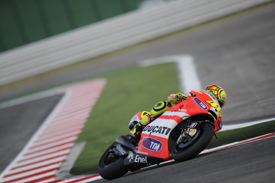 Valentino Rossi says MotoGP's current testing restrictions have badly hampered Ducati's ability to get back on the pace this year, and described the limited non-grand prix running as 'incredible'.
Rossi has only managed one podium finish since joining the Italian team, and his form barely changed even after Ducati brought in a version of its 2012 1000cc bike with a 2011-rules 800cc engine.
At present there are only two post-grand prix tests during the racing season, though some teams are pushing for these limits - introduced at the height of the cost-cutting push of 2009 - to be relaxed for 2012.
"I know that a lot of manufacturers want more testing," said Rossi.
"Me personally, I think it is incredible that we don't do more testing, and for me, but more than for me but for Ducati, a time like this is our time to try to recover.
"We have to try a lot of things, but it is not possible."
He is optimistic that the move to 1000cc power for next season will cure the front end issues that he cites as the main cause of his poor form - but is not taking anything for granted.
"It is a possibility, it is possible, and we especially have to hope," said Rossi. "I like the 1000cc more and it can help the riding of this bike because you can use more the engine, instead of the front tyre, but we have to try it. We are not sure."
Rossi added that he has not completely given up on Ducati turning its performance around before the 2011 campaign is over.
"I have the motivation and I want to continue, but I know we have to work," he said. "We try to do as much as possible. We have to try the next step and we hope that the next development increases our potential."
In today's second practice session Rossi looked set to finish at the foot of the top 15 until his last lap salvaged 11th place.
"At the end it was a little bit better," he said.
"We tried to make the hard rear tyre work but I was slower. With the soft it was better.
"I had just one lap because I had some problems with the traffic and the slower riders. With one lap I reduced my gap to the top to 1.3s and improved my position, but the problem always remains the same - I don't have enough feeling on the front."