Toro Rosso set for sponsorship boost as it begins factory extension
| | |
| --- | --- |
| By Simon Strang | Friday, September 2nd 2011, 13:36 GMT |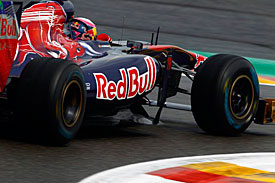 Scuderia Toro Rosso is set for a double boost to its plans to move forward in Formula 1 - with work on a factory expansion due to begin in the next few weeks and the team poised to finalise a sponsorship deal with Spanish oil giant Cepsa.
Toro Rosso has spent the last few years focusing on ramping up its operations as part of the need to design and build its own car - having previously enjoyed a customer relationship with sister team Red Bull Racing.
As well as increasing its workforce from just 85 staff several years ago to a total of more than 280 now, efforts have been made on expanding its Faenza facility – with work on new buildings starting soon.
Speaking to AUTOSPORT about Toro Rosso's plans, team principal Franz Tost said: "We brought last year a property with around 10,000 square metres, and we will start work with the first building at the end of September or the beginning of October this year.
"Next year we will then work on the machine shop, and then the third step is to make a new building for offices. This should take three years.
"We are growing slowly, and the cooperation between the different departments is becoming better and better. It is helping us to make progress and we are increasing our performance race by race."
As well as making progress with its infrastructure, Toro Rosso is enjoying an improved financial situation this year too - as part of a tie-up with Swiss bank Falcon Investments, which is owned by Abu Dhabi's Aabar Investments.
As part of that developing relationship, which could lead to Aabar taking a major equity stake in the future, AUTOSPORT understands that the outfit is ready to announce before the Italian GP a new sponsorship deal with Spanish oil company Cepsa, which has links with Aabar through the International Petroleum Investment Company (IPIC).
Tost would not comment on specifics, but says the team's financial situation is being helped by more investment from sponsors.
"To build up the team, to bring in more people and to increase the performance, you also need a little bit more money," he explained. "We are fortunately in the position that some new sponsors are on board and, along with Red Bull, I am quite happy to have these companies on our side.
"With a better position in the constructors' championship too we will also have more money coming in, but at the same time we will also spend it."
Despite the good news of extra buildings and fresh sponsors, Tost still thinks it will take the outfit a few years to reach its maximum strength.
"To build up a Formula 1 team is not an easy job, because you have to bring in the right people; people that can work together. We fortunately brought in some very good, highly skilled engineers and therefore we have made good progress. This has been done deliberately, but on the other hand we have been pushing for this.
"I think that it will take a minimum of another two or three years until we will really have a stabilised team."
Although the Cepsa sponsorship will provide a good tie-up with Jaime Alguersuari, sources suggest that the oil company's support does not guarantee the youngster will remain a part of the team in 2012 – with the outfit set to make a decision on its driver plans only after the end of this season.