Romain Grosjean pays tribute to DAMS team after winning GP2 crown
| | |
| --- | --- |
| By Glenn Freeman | Saturday, August 27th 2011, 19:26 GMT |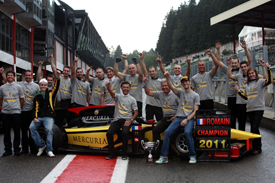 Romain Grosjean says he has taken huge satisfaction from helping DAMS win its first GP2 Series title this year.
The Frenchman sealed the crown at Spa with three races to go, mainly thanks to a dominant middle stretch of the season.
While he admitted that it was a fantastic feeling to win a championship that he felt was "missing" from his career, he also expressed his delight at winning it for DAMS.
"Before the season my management didn't tell me that I had to win the title, but it was my personal goal," said Grosjean. "And I knew that I really wanted to push DAMS to the top level again.
"If you watch the races from last year, you could see it was Addax, ART and iSport that were at the top.
"Now DAMS have won the championship with me, and I am proud of what we have done. I could see the whole team was emotional after the race; it has been a special season."
The former Renault grand prix driver also expressed his gratitude to the team for helping him rebuild his career last year, where he raced in AutoGP and a handful of GP2 events after his difficult part-season in Formula 1 in 2009.
"They picked me up in a difficult situation, I was nowhere," he added. "The first races in AutoGP were really good, and that allowed me to get back into a single-seater. Then I went back to GP2 with them.
"I am very grateful that they gave me this opportunity. They have thanked me for winning the title, but we both had a job to do and they gave me the car to be the champion here."