Ferrari hampered by tyre temperature in Belgian Grand Prix qualifying
| | |
| --- | --- |
| By Matt Beer | Saturday, August 27th 2011, 15:55 GMT |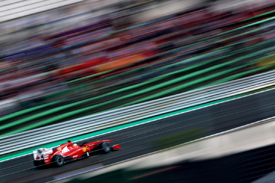 Ferrari team boss Stefano Domenicali said his squad was mainly hampered by its pre-existing tyre temperature issues in qualifying for the Belgian Grand Prix.
Although Felipe Massa qualified fourth, usual team leader Fernando Alonso was back in eighth place. Ferrari has had difficulty getting the Pirellis up to temperature in cool or damp conditions all year.
"We are definitely disappointed with a result that does not match our expectations," said Domenicali. "We managed to get through the first two sessions in the wet in one piece but then, once we switched to the dry tyres, the chronic problem that has characterised our season was clear to see, even more so here than elsewhere, namely the difficult in getting the tyres to work well in low temperatures and on a damp track."
Alonso said traffic had also been a factor in his qualifying frustrations, but was upbeat about his chances of making progress in the grand prix.
"Eighth is definitely not a good result, but we have to accept it and try to make up for this bad qualifying in tomorrow's race," he said. "I am confident because I know the car's true potential is definitely better than this position.
"We did a good job of managing Q1 and Q2, even if the red flag in the second part put us under a bit of pressure because there were only seven minutes left and at that time I was not through to Q3. In the dry I don't think I could have fought for pole position, but I could have been at least on the front two rows.
"Unfortunately, I hardly ever managed to get a clean lap because on both my second and third laps I found [Sergio] Perez ahead of me and on the last one I had to slow at the entrance to the chicane to let [Mark] Webber pass, otherwise I might have been penalised. That's how it was, but definitely there is a sense of regret, as I could have got a better place."
But while Alonso was disappointed, his team-mate Massa was very content with fourth.
"At the start of the session, when the rain came down, if I had been offered a fourth place, I would have signed for it on the spot," he said. "My result isn't bad, even if the cars ahead of me have shown a much quicker pace.
"However, it's true that conditions in Q3 were the worst possible for us: we could not get the best grip level right from the start, because we struggled a lot to get the tyres up to temperature. I think that tomorrow, if we have a dry track, we could be more competitive and I hope to be fighting with the drivers who are ahead of me today."