Ho-Pin Tung to make IndyCar debut at Sears Point
| | |
| --- | --- |
| By Jamie O'Leary | Friday, August 26th 2011, 14:08 GMT |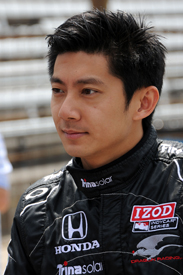 Ho-Pin Tung will become the first Chinese driver to start an IndyCar Series race when he makes his debut in the championship at Sears Point this weekend.
A deal has been struck between Sam Schmidt Motorsports and Dragon boss Jay Penske to field the Renault Formula 1 test driver under the Schmidt Dragon Racing banner at the California road course.
Tung, 28, had hoped to make his IndyCar debut in a Dragon car at the Indianapolis 500 in May, but was concussed in a crash on Pole Day and failed to make the starting line-up.
But after testing the Schmidt Dragon car at Sears last week, he is confident of a much better showing this time around.
"The track is very technical, with many differences in height, really challenging," Tung said. "This circuit requires an intelligent approach. I am very excited about the chance being offered to race."
Team owner Sam Schmidt added: "Our team is pleased to have been able to facilitate this program for Ho-Pin Tung that gives him another shot in 2011,"
"He was the model of consistency at Indy. It was a shame he couldn't compete in that event, but we are thrilled to be partnering with Dragon Racing to make this happen."