Kamui Kobayashi: Improving Force India a threat to Sauber's position
| | |
| --- | --- |
| By Jonathan Noble | Friday, August 26th 2011, 11:20 GMT |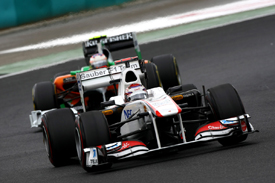 Kamui Kobayashi believes Sauber will need to lift its game over the remainder of the season if it is to stave off the threat of the ever-improving Force India outfit.
Sauber is now just nine points ahead of Force India in the constructors' championship, having given away 12 points in the last two races alone.
Speaking about the threat now posed to Sauber's sixth place position, Kobayashi said: "They [Force India] have made good progress in the last couple of races. Still we are ahead of them, but definitely we have to improve to defend our position.
"It is important that we score points with both cars, and also in the last few races I couldn't score points as well. So it has been a difficult time.
"But I believe that we have a couple of updates and, if everything goes well, we can be in the points again. We were not too far away from the points, but we always miss a few things.
"We try to get everything together again, and if we can score points again very consistently then it will be good for us. Then we have a really good chance to stay ahead."
Sauber's car this year is very easy on its tyres. That has left it struggling to generate sufficient heat into its rubber during qualifying but has been useful in terms of degradation over race distances.
This characteristic has hurt the team in recent races, though, because the cold weather in Britain, Germany and Hungary has had a big impact on tyre performance.
Kobayashi said he was looking forward to warmer weather in the future - and thinks it has been 'bad luck' that recent events have been blighted by bad weather.
"At a few races we had a dry track to wet, or a wet track to dry or whatever," he said. "The track conditions were unstable and that was a big problem. We have to get somewhere where there is heat in the track situation.
"The weather has definitely been something strange. It was the first time in Hungary that it felt not too hot, even a little bit cold, and we have a really strong car when there is heat in dry conditions. So far we have only had a few races like that so we are a little bit surprised – it's been a bit of bad luck."