Michael Schumacher ready to silence critics says Mercedes chief
| | |
| --- | --- |
| By Jonathan Noble | Friday, August 26th 2011, 09:15 GMT |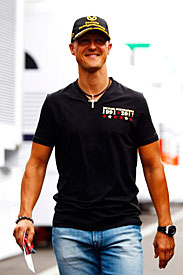 Michael Schumacher is ready to silence his critics and surprise onlookers soon with his form, reckons Mercedes-Benz motorsport boss Norbert Haug.
On the 20th anniversary of Schumacher's debut in Formula 1, back at Spa in 1991, Haug thinks that the seven-time champion is making good progress now with his form and will soon deliver the kind of headline-grabbing result that had been hoped for ever since he announced his comeback.
"If you look through the data and look through the lap times, and if you make the effort to look at it, there have been quite a few races where he has had similar or better speed in the race as Nico [Rosberg] has," Haug told AUTOSPORT. "It was much more balanced than the qualifying results were suggesting.
"His opening laps are just excellent, and you need to be a strong racer to do that on a regular basis. It is not a one-off, as nobody has overtaken more cars during lap one, although you must say it is easier if you start eighth or tenth than if you start on pole position. I also think we saw some great moves from him, so the spirit/feeling is there.
"And it may be strange to say, but Michael can surprise people, even after this period of time. When some people write him off, we will definitely not make that mistake to write him off. You need to smell it, you need to have the right ingredients and you see a race like Canada and I think it was excellent."
Although a recent comment from Haug regarding a possible future DTM test for Schumacher has prompted talk about a post-F1 career for the German, such speculation has been dismissed.
"The guys [Schumacher and Rosberg] probably during winter time, if there is a possibility, they may test the car, but this is not a big matter," said Haug.
"There is nothing, just to stress, or a background like he is going to do DTM after F1. We never, ever discussed that. He has a lot of respect in front of these guys, but he is not really a big fan of driving these [DTM] cars himself.
"He did that in the past for a couple of races, but he is a monoposto guy. We never discussed it. I am sure if we have the opportunity at one stage, it would be good fun, they all enjoyed it. Ask David (Coulthard), ask Mika (Hakkinen), ask Ralf (Schumacher), ask all these guys. At one stage there could be an outing in the car, but even that is not confirmed."