| | |
| --- | --- |
| MotoGP riders confident new Indianapolis track surface will be an improvement | |
| | |
| --- | --- |
| By Toby Moody and Jamie O'Leary | Thursday, August 25th 2011, 22:35 GMT |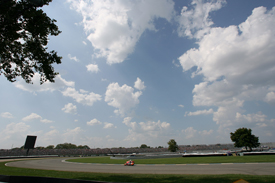 The new track surface on the Indianapolis Motor Speedway's road course will be a major improvement on its predecessor, according to a number of MotoGP riders ahead of this weekend's race at the legendary US venue.
Work has taken place this year to resurface the infield section of the circuit in a bid to eliminate some of the extreme bumps that have caused a number of accidents in recent seasons.
Former world champion Nicky Hayden, the only man who has sampled the new surface - on a road bike - believes the main concern will be how long the track takes to 'rubber-in' during the weekend.
"The infield only gets used once a year, pretty much," said the Ducati rider. "So it will be interesting to see what it does to the tyres and whether it wears them a lot. But I don't expect any tyre issues.
"The new surface is a lot smoother than it was and it's not as patchy either, so from Turn 4 to the finish line will all be the same pavement now. I'm anxious to see how quickly it comes in and get some rubber down."
Honda's championship leader Casey Stoner thinks that weather conditions at Indianapolis will play a key part in how quickly grip levels on the new surface improve.
"We have to see what kind of weather we have to see how the grip comes in," said the Australian. "There have been some storms around the area in the last few days, but the forecast for the weekend is good, so that should help."
Ben Spies, who finished second in last year's race, believes that the new surface will help to eliminate some of the accidents that have blighted the likes of Valentino Rossi, Dani Pedrosa and Stoner over the past two years.
"It's definitely going to be good," said the Yamaha rider. "Because the first year I came here the first few turns were a bit slick. It's going to be smoother. And it will take away the bump in turns 5/6 where a lot of crashes happened last year.
"We're going to have a problem getting the rubber down over the first day, but I'm definitely looking forward to it. It's a good move [to resurface] and it should be nice. It looks like they did a great job."