Heidfeld hoping High Court action can restore his Renault drive by Singapore
| | |
| --- | --- |
| By Simon Strang and Jonathan Noble | Thursday, August 25th 2011, 21:42 GMT |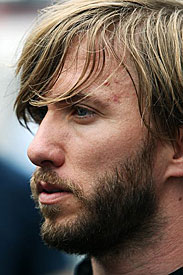 Nick Heidfeld's manager Andre Theuerzeit remains hopeful that the German will be back in a Renault cockpit in time to race in Singapore, as he intends to bring his legal fight to force the team to honour the driver's contract before the London High Court next month.
Heidfeld was replaced by the Renault's test and reserve driver Bruno Senna for the Belgian Grand Prix on Wednesday.
But in a statement released on Thursday evening, Heidfeld's management made it clear that they believe the German has a legal and binding contract with Renault which they intend to enforce through a trial that is set to take place after the Italian Grand Prix.
"I am disappointed that the team is allowed to let another driver take Nick's seat for the next weekends," said Theuerzeit. "However, I certainly am confident that we will be able to enforce a fair solution for Nick in the further proceedings.
"We all hope that Nick will be back in the cockpit in Singapore."
In the meantime Renault has been temporarily granted the right to run Senna in the car for the next races at Monza and Spa.
Heidfeld's legal representative Dr. Stefan Seitz said: "The interlocutory decision of the court does not infringe on the fact that Nick has a valid contract to be one of the two main drivers of the team.
"This position is disputed by the team for apparently purely financial reasons. We do not intend to rest before Nick's legal position has been fully restored."
Heidfeld commented: "I was surprised by the team's intention to replace me and regret that things have developed this way.
"I just wanted to be in the cockpit to get the best result for the team and me. I still have a clear contract and I want to drive."