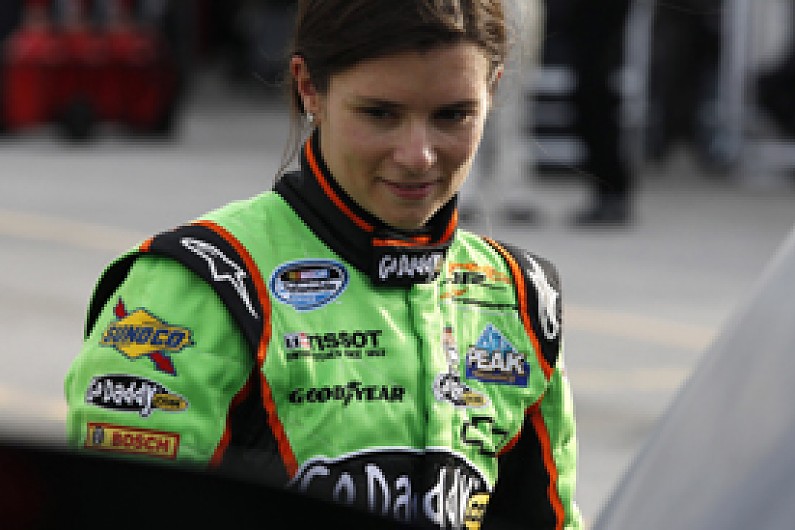 Danica Patrick will enter full-time NASCAR competition next year with an entire Nationwide Series title for JR Motorsports, plus a partial Sprint Cup schedule with Stewart Haas Racing.
Following months of speculation about the future of the IndyCar star, Patrick announced on Thursday that she will leave open-wheel racing behind in order to commit to a future in NASCAR with Dale Earnhardt Jr's team, for which she has competed sporadically this year.
Patrick will also enter between eight and 10 Sprint Cup races with Stewart Haas Racing, with the season-openning Daytona 500 expected to be her first attempt in NASCAR's top tier. The 29-year-old American also said her goal was to make the jump to full-time Cup racing in 2013.
"I have to say that the first time that I got out of the car at the ARCA race in Daytona [2010] it was the most fun I have ever had in a racecar," Patrick explained.
"It probably had to do with the bumping but it was the most fun I've ever had in a car and I think that that really started it all and it went from there.
"I'm excited to start the next chapter, not only in my life but our life [with her sponsor] and I've got some really exciting things ahead. I'm ready to go!"
Patrick denied that her decision to move to NASCAR was based on the potential for a more lucrative deal and said that had that been the case she would have made the switch a long time ago.
"I made this decision because of how much I enjoy driving stock cars and how much I enjoy in particular racing stock cars," Patrick said. "The races are so interesting! There's so many pitstops, so many strategies that play out. You have to take care of your car at times, you have to know when to push with it, you can kind of throw them around a little bit and overcome some handling issues.
"You can bump around which is pretty fun, and I've just really had fun with it. So it's really about enjoying the racing and enjoying the people and enjoying my life when I'm at those races and everybody around me."
Patrick's Sprint Cup outings for next year have yet to be announced, but she is keen on making her debut at next year's Daytona 500.
"I have definitely enjoyed going to Daytona, that's for sure" Patrick said. "I've done four races there now, the ARCA race and then three Nationwide races. So I really like it.
"I though I had a great chance to win at the end of the race in July, but you know, that's one of those things that we haven't completely decided yet."
Having entered already 20 Nationwide Series races for JR Motorsports over the past 18 months, Patrick believes she has made good progress although like every learning curve, hers has become flatter with every race.
This year, on her second visit to Las Vegas Motor Speedway she claimed her best result thus far with a fourth placed finish, and last month she led and was a contender at Daytona.
"I feel more comfortable in the car, obviously I got to the bump-drafting thing at Daytona, which will be a Daytona and Talladega thing and I feel like I've got better on the short ovals, which I think is the one I need the most amount of work on and the mile-and-a-halves are coming around as well," she said.
"It's a typical learning process, it goes fast at the beginning and then I'm sure it will inevitably taper off and be a slow learning after that.
"But I haven't run a full season of Nationwide racing so I'm still very much in that learning phase. I feel more comfortable every time I'm in the car and that's a good sign of my progress and the reflection in the track."
Although Patrick said she would love to return to the Indianapolis 500, it is still "uncertain" whether she will enter the 2012 event.
She says the highlight of her career will remain for now her IndyCar win at Motegi in 2008, while she will miss some of the venues and people in the series she is set to leave at the end of the season.
"As a racecar driver I would've loved to have won every race but that's very hard to do," Patrick said. "It was great to win at Motegi, in Japan and I'll always remember that as being the highlight so far. The IndyCar season is not over yet, so there's still time to win more.
"My greatest successes in racing have come when I'm happy and when I'm enjoying myself and that's when I perform the best. So, I'm very excited, very happy, we've accomplished a lot and again, there's still a little time."
Patrick returns to the IndyCar Series this weekend at Sears Point with Andretti Autosport, while the next of a remaining five outings in the Nationwide Series will come at Richmond in September.
New season.
New rules.
New cars.
New drivers.
Get ready for an F1 season like no other with unlimited access to the world's best motorsport journalism.
Get 10 free extra stories
Upgrade for free - and boost your monthly news limit instantly.
Register for free
Expert opinion.
Technical insight.
Unbeatable analysis.