Felipe Massa backs the FIA's plan to ban use of DRS through Eau Rouge
| | |
| --- | --- |
| By Jonathan Noble | Wednesday, August 24th 2011, 15:58 GMT |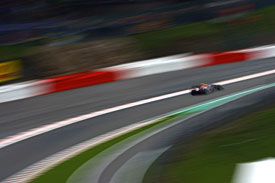 The FIA's decision to ban the use of DRS through Eau Rouge at this weekend's Belgian Grand Prix has been backed by Felipe Massa.

With FIA race director Charlie Whiting having decided on Monday that it would have been too dangerous to allow drivers to use DRS through Eau Rouge in practice and qualifying, Massa thinks that F1's race director has made the right call.

"I have been following the discussion regarding the use of DRS at the Eau Rouge corner and I think banning its use there for the whole weekend is the right decision," wrote Massa on Ferrari's website.

"As racing drivers, we would always try and use DRS there and that could lead to an accident, because of the particular nature of the corner. So, just as was the case in the tunnel in Monaco, I think this is the best solution."

Whiting said on Wednesday that one of the key factors behind his decision was the fact that there was a risk of drivers thinking their wing was fully down, when in fact it was still 'open' for DRS.

"We're not going to allow DRS to be used through Eau Rouge during practice," he said. "We want to avoid drivers going through thinking that their wing is in the right position, when it might not be. We think this is the correct safety measure to have taken at such a fast, demanding corner."