Scott Speed set to return to NASCAR Sprint Cup with Whitney Motorsports
| | |
| --- | --- |
| By Diego Mejia | Tuesday, August 23rd 2011, 08:49 GMT |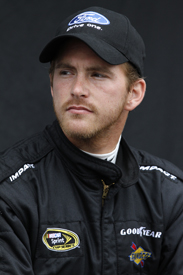 Scott Speed is set to return to the NASCAR Sprint Cup at Bristol this weekend after signing a deal to drive for Whitney Motorsports for the rest of the year.
The ex-Formula 1 racer has competed only three times in the Cup this year driving for Larry Gunselman, but he now plans to attempt to qualify Dusty Whitney's #46 Ford Fusion in the 13 races remaining. The team has run a partial schedule through the year with JJ Yeley behind the wheel at the majority of events.
"I really like Dusty and his guys," said Speed. "They work really hard with the little amount that they have. There is a lot of passion over here and I love how tight of a group we are, we are the underdogs and I love it."
Speed has 79 Cup starts to his name after making his debut in 2008 with Red Bull Toyota and racing for the squad until last year. He entered the NASCAR ranks through the Truck Series, claiming a win at Dover in his debut year, and has also competed in the Nationwide Series, most recently at Montreal where he finished sixth for Kevin Harvick's team.
"Scott has shown us what a tremendous asset he is," said Whitney. "We are extremely excited about having him drive our car. He is a great guy with an amazing talent. We hope to make our mark before the season is over.
"We have sponsors lined up for Atlanta and Kansas, and are on the prowl for the other races. I feel that Scott and this team have a lot to offer anyone that wants to get into the sport of NASCAR."
Whitney Motorsports' best finish of the season came earlier this year at Talladega with Bill Elliot finishing 26th.