Klaus Graf gives Muscle Milk Lola-Aston Elkhart Lake ALMS pole
| | |
| --- | --- |
| | Friday, August 19th 2011, 21:19 GMT |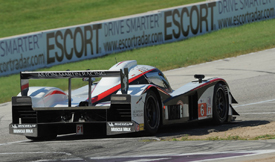 Klaus Graf put the Muscle Milk Lola-Aston Martin on pole for the second time this year in American Le Mans Series qualifying at Road America.
Graf's 1m51.828s lap placed him a second clear of the field for a while, until a superb effort by series rookie Steven Kane got the best of the Dyson Lola-Mazdas to within 0.364 seconds of pole. Chris Dyson's sister car was third, 0.5s off pole in the end.
Another fiercely close GT class battle saw BMW on pole again, but Dirk Muller was only 0.005 seconds ahead of Jan Magnussen's Corvette. The second BMW was back in fourth, behind the Risi Ferrari.
Flying Lizard's #45 car was again top Porsche in fifth, while Bruno Junqueira showed very encouraging form in the RSR Jaguar by qualifying 1.3s off class pole in eighth.
The margins were tight in the one-make classes too. Butch Leitzinger took LMPC pole for PR1 Mathiasen Motorsports by just 0.095s over CORE Autosport's Gunnar Jeanette, with Kyle Marcelli (Performance Tech) and Eric Lux (Genoa) also within 0.138s of pole. In GTC Sean Edwards (NGT) narrowly edged out Black Swan's Jeroen Bleekemolen and TRG's Spencer Pumpelly.
Pos  Cl   Drivers                     Team/Car                Time
 1.  P1   Luhr/Graf                   Muscle Milk Lola-Aston  1m51.828s
 2.  P1   Al Masaood/Kane             Dyson Lola-Mazda        1m52.192s
 3.  P1   Dyson/Smith                 Dyson Lola-Mazda        1m52.401s
 4.  P1   Burgess/McMurry/Lewis       Autocon Lola-AER        1m56.344s
 5.  P2   Tucker/Bouchut/Diaz         Level 5 Lola-Honda      1m56.664s
 6.  PC   Junco/Leitzinger            PR1 Mathiasen FLM       1m59.262s
 7.  PC   Jeannette/Gonzalez          CORE FLM                1m59.357s
 8.  PC   Nicolosi/Boon/Marcelli      Performance Tech FLM    1m59.379s
 9.  PC   Lux/Zugel/Julian            Genoa FLM               1m59.400s
10.  PC   Field/French/Marsal         Intersport FLM          2m00.106s
11.  PC   Bennett/Montecalvo          CORE FLM                2m02.592s
12.  PC   Marcelli/Ducote/Ducote      Intersport FLM          2m03.727s
13.  GT   Muller/Hand                 BMW                     2m05.447s
14.  GT   Gavin/Magnussen             Corvette                2m05.452s
15.  GT   Melo/Vilander               Risi Ferrari            2m05.687s
16.  GT   Auberlen/Werner             BMW                     2m06.245s
17.  GT   Bergmeister/Long            Flying Lizard Porsche   2m06.379s
18.  GT   Beretta/Milner              Corvette                2m06.585s
19.  GT   Sharp/van Overbeek          Extreme Speed Ferrari   2m06.730s
20.  GT   Junqueira/Wilden            RSR Jaguar              2m06.812s
21.  GT   Neiman/Holzer               Flying Lizard Porsche   2m06.838s
22.  GT   Henzler/Sellers             Falken Porsche          2m06.921s
23.  GT   Brown/Cosmo                 Extreme Speed Ferrari   2m06.936s
24.  GT   Murry/Lazzaro               Robertson Doran Ford    2m07.861s
25.  GT   Miller/Maassen              Miller Porsche          2m10.098s
26.  GT   Robertson/Snow              Robertson Doran Ford    2m11.806s
27.  GTC  Edwards/Kauffmann/Cisneros  NGT Porsche             2m14.067s
28.  GTC  Pappas/Bleekemolen          Black Swan Porsche      2m14.126s
29.  GTC  Ende/Pumpelly               TRG Porsche             2m14.220s
30.  GTC  LeSaffre/van Lagen          Black Swan Porsche      2m14.900s
31.  GTC  Ham/Thompson                JDX Porsche             2m15.239s
32.  GTC  Sweedler/Wong               Alex Job Porsche        2m15.290s
33.  GTC  von Moltke/di Guida         TRG Porsche             2m15.499s
34.  GTC  Sofronas/Welch              GMG Porsche             2m15.634s
35.  GTC  Hansson/Farnbacher          Napleton Porsche        2m15.826s
36.  GT   Jones/Moran                 RSR Jaguar