Denny Hamlin makes early move to TRD engines
| | |
| --- | --- |
| By Diego Mejia | Friday, August 19th 2011, 21:04 GMT |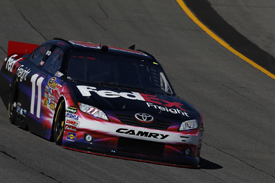 Denny Hamlin is running a Toyota Racing Development engine this weekend at Michigan, having made an early switch from the Joe Gibbs Racing units.
The 2010 NASCAR Sprint Cup Series runner-up currently sits 12th in the points following a crash at Watkins Glen last Monday, which places him in danger of missing the cut for this year's Chase. With only four races left before the play-off field is set, Hamlin is provisionally in thanks to his sole victory of the season, claimed in the spring at Michigan.
Two weeks ago Hamlin was vocal about his worries regarding reliability issues on Gibbs-built engines potentially costing him a chance to contend for this year's title. Last week Joe Gibbs Racing announced it would run Toyota Racing Development (TRD) engines in its Cup cars in 2012 and at the time team boss JD Gibbs did not rule out running such units this year.
Hamlin says he supports the move from Gibbs to TRD engines as a further engine failure would all but put him out of championship contention.
"You have to understand, this is a big favour to ask a manufacturer to provide engines for us for the rest of the year," said Hamlin at Michigan on Friday. "It's a lot of manpower, a lot of work had to be done, especially within JGR. There's a lot of work that had to be done to get this engine imported into our car.
"So, we were going to have to ask and pull a lot of favours to do it. We just asked them if they'd be willing to do it and they did. I was behind it 100 per cent. I felt like it was the right thing to do. Ultimately what matters is results. Things happen, engines blow - things happen like that - but we felt like they've worked out a lot of reliability issues that they had early on.
"If we were going to make the Chase, we could not afford DNFs because of engine failures and on top of that, we couldn't afford to keep starting in the back every week because of engine failures. I didn't help us out last week, but we started in the back I think four times because of blown engines. That's just too hard to overcome, especially with as hard as it is today to win a race."
Hamlin admitted there were some hurt feelings at Joe Gibbs Racing given his early switch from the in-house built units while his team-mate Kyle Busch and Joey Logano will continue to run the Gibbs engines for the time being.
Busch, currently leading the Cup standings and virtually locked into this year's Chase with three wins, believes his best shot at contending for this year's title is remaining loyal to the Gibbs engine programme.
"We're staying committed to our guys, our engine department for this year and [engine builder] Mark [Cronquist] is still there and all the same guys are still there," said Busch. "We've only had one engine failure this year in a race and it was at Vegas - we blew up.
"We had another problem in practice somewhere, which was my fault and we caught it in time and we were able to make a change in practice. We had to start at the rear [of the grid], but no big deal. We feel pretty confident with where we're at and how we can finish out the year.
"The reason for the merger and everything for next year is primarily because of the fuel injection. We haven't done any R&D work on fuel injection stuff yet, where TRD Cost a Mesa [California], they've done a lot of work in regards to that and preparing for next year, preparing for the future and what that entails."
Hamlin outpaced his JGR team-mates in Friday's qualifying session at Michigan.