Dale Earnhardt Jr coy about reports that Danica Patrick's NASCAR deal is done
| | |
| --- | --- |
| By Diego Mejia | Friday, August 19th 2011, 18:49 GMT |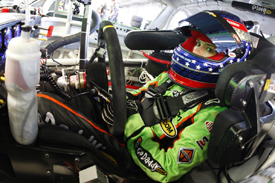 Dale Earnhardt Jr remains tight-lipped about the chances of Danica Patrick making a full switch to NASCAR with his Nationwide Series team, amid suggestions that an announcement will be made as early as next week.
Following reports that Patrick has already committed to run full-time in NASCAR's second-tier series with JR Motorsports from 2012, with the potential for Sprint Cup outings as well, Earnhardt insisted his team was not planning any announcements yet - but admitted he would be happy to continue the relationship with Patrick.
He said he had been impressed with Patrick's performances in her part-time Nationwide schedule with his team over the past year-and-a-half, and was also complimentary about her abilities as a team player.
"We've enjoyed working with her and would love to keep working with her," Earnhardt said. "When there's something to announce, they'll announce it. Will have to say wait till that happens, I guess."
He added: "I think what she's accomplished already is success, in my opinion. She obviously would want to continue to improve and compete for wins. But it's tough to learn new tracks, to learn a new vehicle and to be able to drive it well and do well in it and adapt to it. I think she's done that.
"She's awesome about it, she's really done a great job.
"She seems like she's fun to work with, no matter whether you're a man or woman, people have got to be able to get along with you and you've to be a people person and manage people and manage relationships. She seems to be able to do a great job of that.
"We look forward to the future races, the rest of the season to be able to work with her."
Earnhardt said he has not had any contact with Patrick since her outing at Daytona last July and stressed that any dealings between her and his team have been handled by his sister and manager Kelley.
Patrick is currently competing in the Nationwide Series' Montreal event, where she responded to speculation about her future by saying "there's nothing new to report."
Tony Stewart, whose Cup team is said to be working on a deal to run Patrick on her debut in NASCAR's top series, was also silent about the chances of any imminent news on the subject, saying there was nothing to comment on just yet.
Patrick has a best finish of fourth in 20 Nationwide outings, achieved earlier this year at Las Vegas. She also led laps and was a contender for victory in July at Daytona before being involved in a multi-car incident on the final lap.