Ryan Hunter-Reay satisfied with victory despite New Hampshire chaos
| | |
| --- | --- |
| By Sam Tremayne | Sunday, August 14th 2011, 23:46 GMT |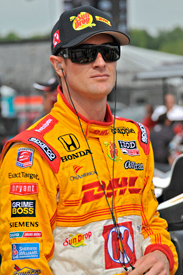 Ryan Hunter-Reay said his first win of the season at New Hampshire was still satisfying despite the confusing circumstances in which it was finally confirmed.

Having assumed control of the race following Dario Franchitti's crash, Hunter-Reay led the field at the final, controversial restart but lost out to Oriol Servia and Scott Dixon after a poor initial getaway.

He then had to wait in the pit-lane as race officials pondered whether to reset the race or restart for the final five laps, before finally being confirmed as the winner as - much to Servia's chargrin - they elected to finish the race using each driver's position prior to the wet restart.

"It was certainly the strangest win of my career," Hunter-Reay said. "When you have a good car, you just want to go head-to-head and win that way. Still, we won and I'm happy about it.

"I'm sure the guys in race control were desperate to go green for the fans at home and here at the circuit, but when its raining you can't race on ovals unfortunately. We never should have had a restart.

"I would definitely liked things to be more straightforward, especially with a win - I'm here talking about victory and that's never a bad thing, I just wish I didn't have to be explaining what race control were thinking."

Asked whether Servia and Scott had a right to feel aggrieved, Hunter-Reay said he felt his team deserved to win given their performance over the entire race.

"Between Oriol, Scott and I, I certainly feel we deserved to win. Servia led for 20 feet or something like that - and it's a good thing we didn't go further down to Turn 1 or everyone would have crashed.

"It was definitely a rollercoaster, and I was pretty angry when we went green. Until that point though I think it was a pretty good show, real good fun and I'm happy about it. If I had my way we'd be coming back."