| | |
| --- | --- |
| Valentino Rossi admits doubts over Motegi still linger in the Moto GP paddock | |
| | |
| --- | --- |
| By Dieter Rencken | Sunday, August 14th 2011, 00:43 GMT |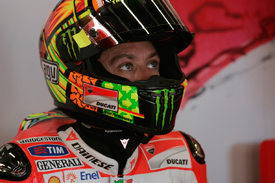 Valentino Rossi admits doubts still linger in the MotoGP paddock about the safety of returning to Motegi for the Japanese Grand Prix - although he insists the issue of radiation is no longer one of the concerns.
The Italian said the FIM's recent report had done much to allay his own reservations, but revealed that there were still lingering fears about the general safety of the area from within the paddock.
Asked about the basis of those fears, Rossi said: "The (FIM) report is good, so it looks like the situation there is not so bad.
"The main reason is that the centre is not under control. Two or three days ago there was another earthquake. If something wrong happens when we are there: this is the biggest fear, the main reason."
Rossi conceded that various pressures meant the riders were not united over a possible return to Japan, but added that voices within the paddock were also concerned about the event.
"For me its difficult that all the riders are agreed because there is a lot of pressure for the future - with contracts for example - so I think there are some riders that risk more, some less.
"There are a lot of people in the paddock, like mechanics, that are scared to go too. As riders we have a lot of weight on our shoulders - this is the situation.
"With the safety commission we were just nine or 10 riders (in total), so we need to think before we decide."