| | |
| --- | --- |
| John Hopkins says he feels back in the groove after a day's practice in Brno | |
| | |
| --- | --- |
| By Simon Strang | Friday, August 12th 2011, 16:09 GMT |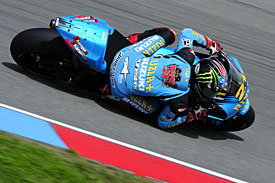 MotoGP returnee John Hopkins was delighted to have been able to find a rhythm on his first competitive day back on the Suzuki since Jerez in May.
The 28-year-old American ended the first day's practice for the Czech MotoGP just 0.023s seconds slower than his team-mate Alvaro Bautista, having set the 10th fastest time overall.
"It's been a big culture shock today, the most elite riders in the world are all packed in the MotoGP field, but it has still been a good day for us," said Hopkins. "When I rode in Jerez my mindset was still with prototype racing, because I hadn't quite got into Superbike riding, but all this year I've got very comfortable with a Superbike and so coming into this weekend I was a bit afraid it would all feel totally different and I couldn't ride a GP bike anymore - luckily that wasn't the case!
"I tried to get comfortable this morning and follow as many people as possible, because to be honest I need as much help as I can get at the moment!
"I was well within the top 10 this morning and I managed to follow Alvaro and he showed me some lines – which was really cool – I was very happy with that, and the fact that he didn't get upset and just let me follow.
Hopkins, who hasn't had a regular ride in MotoGP since his ill-fated season with Kawasaki in 2008, said there was more to come from the bike after another day's bedding in.
"This afternoon we tried a few things with the bike to see where we could improve, but we never really went too far away from the set-up we had this morning," he said. "We used a couple of tyre variations to see how they worked and that gives us something to go on for the rest of the weekend. I did a quicker lap today than my best lap here before, which was in the race in 2007, so that was a good thing.
"I'll now sleep with the track on my mind and come back a lot better tomorrow morning, I'm sure if I can get more comfortable on the bike and find a rhythm, then I can get at least half-of-a-second off my time from today."
Bautista, who ended the day eighth quickest, was just happy to complete two practice sessions without being hampered by injury – something that has never occurred during his time in the top class at Brno.
"Today was my first full MotoGP day at Brno when fully fit, so I am pleased to have done that," said Bautista. "Last year I crashed in the second free practice and the rest of the weekend was quite hard for me. The first thing today was to get a good feeling with the bike, but this morning I felt the bike slide a bit in the corners, this might have been because the track was a bit dirty, but we made a change that also helped to improve the problem.
"I can do a long run with used tyres and after 26 laps my rhythm was good and I could do low 58s. We then put in a new front and rear tyre and I was able to push a bit more, but I found some traffic on the last laps and I couldn't improve my time. I am happy with today because I have done the fastest lap I've ever done at Brno, my previous best was 59.1 and today I did 57.8 so that is a good improvement."