D'Ambrosio not distracted by future talk, focused on doing the best possible job
| | |
| --- | --- |
| By Pablo Elizalde and Edd Straw | Wednesday, August 10th 2011, 10:28 GMT |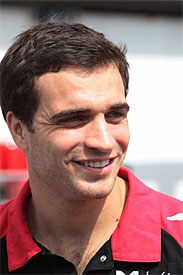 Jerome D'Ambrosio says he is focusing on doing the best possible job this year rather than worrying about his future in Formula 1.
Virgin Racing announced last month that Timo Glock would stay with the team at least until the 2014 season, but said it was in no hurry to name its second driver.
D'Ambrosio, who has a contract until the end of the year, says he is not worrying too much about that at the moment, and that he is in talks with Virgin about a possible new deal.
"Obviously we are speaking, but at the moment I am still highly focussed on what I do now," D'Ambrosio told AUTOSPORT, "and if anything [manager] Eric Boullier and Gravity are working on that."
The Belgian, making his debut this year with Virgin, said he was pleased with how he has progressed during the season, despite the team's difficult campaign so far.
"I'm happy with the progress," he said. "With these conditions obviously, a bit of experience maybe, but quite happy with how things are going.
"As you can imagine as a rookie you take up a lot of information in a short period of time with non-stop races, so it would be good to have these weeks to just back off a little bit, process everything and then come back fresh and ready for Spa."
Virgin CEO Graeme Lowdon praised D'Ambrosio's work this year, but insisted no decision is likely to be made until the end of the season.
"Jerome's doing a really great job, I think he's surprised a lot of people with his maturity in the races as well," he said last month.
"You see with other drivers coming in for the first time, its not an easy formula to adapt to because of everything that's around it, and you cant really talk too highly about Jerome's performance so far.
"So again in terms of just straightforward contractual time then it will be more towards the back end of the season."