Perez sure he will be much stronger during his second Formula 1 season
| | |
| --- | --- |
| By Pablo Elizalde and Jonathan Noble | Wednesday, August 10th 2011, 09:49 GMT |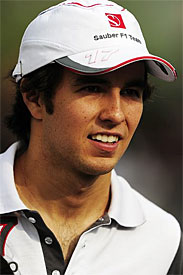 Sergio Perez is confident he will have a much stronger second season in Formula 1 next year after a solid debut campaign with Sauber.
Perez, the first Mexican Formula 1 driver in nearly 30 years, has enjoyed a strong first half of the season with the Swiss squad, having scored eight points so far.
The rookie is optimistic, however, that he will be able to build on his first year in Formula 1 to be much better in 2012, both on and off the track.
"I think a lot stronger," he told AUTOSPORT when asked about the prospects for next year.
"Not only on the track, but off the track. When you come into Formula 1 you realise it's a different world, and as a young driver I think it takes some time to adapt to this world.
"I think next year is going to be a lot more normal for me and a lot better season if F1, and this is my aim: to have a much better second season."
He says having secured a deal for next year early has also helped him focus on his job.
"Of course, it always helps to know so early what you are doing next year. Normally as a driver, not that you worry but you want to find the best future for your career, and I think it was always a good idea to stay at Sauber. For me, it was of course a very clear decision."
He added: "I think it has been an up-and-down season. The [Monaco] accident did not help. After Australia, in Malaysia and Shanghai I had some bad luck, but we've been always right there in the pace and this is very important.
"Unfortunately my accident did not help at all because I lost some momentum, and to get back in the proper rhythm as a racing driver is not so easy after such a big impact in the head. Its getting better and I'm getting more comfortable in the car every time, and I'm sure that it was the right decision."
The Mexican admitted the accident he suffered during the Monaco Grand Prix, after which he was forced to miss two races, was a very hard moment to cope with.
"It was very difficult, it was not easy at all," he said. "It was a big shame because it was a very big accident, I could have ended my career early. Fortunately that did not happen, nothing big, and I just missed two races - two important races where the team scored very good points, they were two circuits that suited our strategy mainly quite well.
"Unfortunately I lost some points there and some rhythm, but then I went back in the car in Valencia and it was all okay, I was in the rhythm straight away and it was all fine."