James Key says Sauber must react to Force India's charge to keep sixth place
| | |
| --- | --- |
| By Pablo Elizalde and Jonathan Noble | Tuesday, August 9th 2011, 14:19 GMT |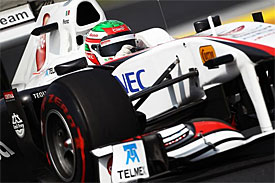 Sauber's technical director James Key says the Swiss squad has to react to the charge from rival Force India in order to keep sixth place in the standings.
Force India has enjoyed a series of very strong races over the last few weeks, managing to reduce the gap to Sauber to just nine points.
The Mercedes-powered squad is also expected to be strong in the next races in Belgium and Italy due to the nature of the circuits.
Key believes Sauber needs to raise its game to keep Force India at bay.
"I think Force India have definitely made a step, they look quite strong and they have got some potentially strong events coming up, Spa and Monza, so we need to react a bit to what they've done and we are," said Key.
"We've got packages and stuff on the way. We have to see. I think from our side our consistency isn't brilliant, we go to certain tracks and conditions where we know we are going to have trouble, and other circumstances where it is good and we probably have to keep more consistency to try and fight with Renault and Force India."
Key also admitted Sauber is not dealing well with the medium tyres, something that is likely to affect the team in the upcoming races as Pirelli has announced it will take that compound to Spa and Monza.
"I think with the tracks, as I predicted at the Nurburgring, places like Hungary and Silverstone, where you laterally load the tyre, are far better for us than places that are stop start like Canada for example. Tracks which work the tyres are good for us.
"And with the tyre compounds, we don't get on at all well with the medium tyre, but the soft and the super soft no problem at all and then the hard surprisingly is okay as well.
"But when we have to face the medium its just very difficult. It's very peaky, you can easily go over the top of its working range or underneath, but to be on it seems to be very condition-dependent."