Vijay Mallya confident Indian GP circuit will be ready on time
| | |
| --- | --- |
| By Matt Beer and Dieter Rencken | Monday, August 8th 2011, 14:32 GMT |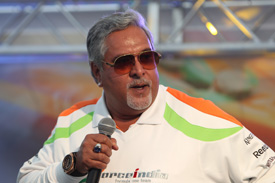 Force India team boss Vijay Mallya is confident that the essential facilities required for the inaugural Indian Grand Prix will be complete in plenty of time before the 30 October race.
FIA technical delegate Charlie Whiting recently delayed his final inspection of the New Delhi venue until the start of September, but Mallya said he had no concerns about the core elements of the build - while conceding that some aspects would be a race against time.
"The promoters of the race, who are also the owners of the track, are very confident that everything will be ready," he said. "Charlie will obviously make the determination himself.
"Everything may not be 100 per cent in terms of the grandstands and the spectator facilities, but the technical areas, the pits, the motorhomes, the paddock club and of course the track itself seems to be almost ready already."
Mallya said the remaining issues related to some of the spectator areas.
"They have designed a huge grandstand with a massively cantilevered roof. All that is taking a bit of time to erect," he added.
"Some spectator facilities might not be fully ready, but there's no reason why the race should not happen."
He also echoed Indian motorsport federation president Vicky Chandhok's worries about extreme temperatures for the proposed April date for the 2012 race, but admitted it may be hard to change.
"It's doable. It's going to be hot, but it's doable. It's in May that it gets into the 40s [degrees], but it certainly will be in the high 30s," Mallya said.
"We'll discuss it at the World Motor Sport Council, the next one is before Singapore, and I guess in the scheme of things, as far as the race promoter is concerned, you take what you get."