Jimmie Johnson and Kurt Busch row after Pocono race
| | |
| --- | --- |
| By Diego Mejia | Monday, August 8th 2011, 09:12 GMT |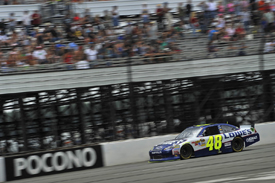 Jimmie Johnson and Kurt Busch had a heated exchange following a tough battle for third place in Sunday's NASCAR Sprint Cup race at Pocono.
Busch was able to hold off the reigning champion after Johnson tried to overtaking him on the final lap entering Turn 1. The Hendrick driver initially jumped ahead but his Penske rival was able to get a run back on the inside of him at the exit of the turn.
Johnson seemed to drive down on Busch, who shoved back towards him as the cars made contact at least twice before Busch was able to get third place back. Johnson's car got some damage on the right side, with a tyre rubbing into a fender as he saw his rival pull away to beat him for position.
As they pulled into the pits Johnson went to confront Busch and the pair had a heated exchange of words. Johnson finally walked off, visibly angry at his rival.
"It was more like a lot of yelling," he said about their exchange in the pits. "Man, I worked him over for 10 or 15 laps and had the opportunity to screw him up and had the opportunity to run into him and never did it.
"Then off of [Turn] 2 he claims I turned down on him and I don't have a clue. He ran over me on the corner exit and that's where it all started."
Johnson added: "I'm not going to run people over to pass them. That's just not me. I worked on him for however many laps trying to get by him clean, fair and square and as I got next to him we had that issue off of [Turn] 2.
"I just keep filing things away. I'll remember this stuff. There's a couple of other guys out there that have been pushing their luck too."
Busch said there was nothing to regret from his side and claimed he simply responded to Johnson's defensive moves on that final lap.
"I was racing Jimmie hard there at the end," said the Penske driver. "I was racing, flat out. You want to race, let's race! I didn't know we were supposed to pull over when it came down to five to go. I raced him hard. I raced him smart. I raced him clean and he wants to come over here and bitch about it.
"Hey, he came off the turn and did a jab to my left; I did a jab back to the right. It's as clean as ever, as clean as I've seen it. Why can't we race each other like this and put on a show for the fans and not have a problem with it? I don't know."
Busch later added he was hoping something happened between his team-mate Brad Keselowski and his brother Kyle Busch while they battled for victory, so that he would have a chance of winning. However he took particular pride at beating arch-rival Johnson for third.
"A good hard-fought battle for us, rooting for those two in front of me, my team-mate and my younger brother, to wreck each other, but not to wreck each other," he said. "Of course I wanted both of them to win and I wanted to win, anybody but the #48. And us three, we came home up front."
Johnson currently ranks second in the Sprint Cup standings, five points ahead of fourth-placed Kurt Busch.