Fernando Alonso hasn't given up on world championship title hopes yet
| | |
| --- | --- |
| By Simon Strang | Saturday, August 6th 2011, 20:56 GMT |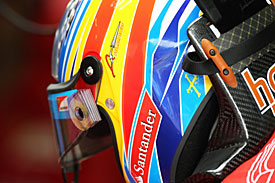 Fernando Alonso hasn't given up on the 2011 drivers' title despite his 89-point deficit to championship leader and world champion Sebastian Vettel.
Speaking at Ferrari's summer press event at the Madonna di Campaglio, the Spaniard said that while the odds were long, it was still possible to close the gap if kept winning and Red Bull's driver ran into a barren spell.
"We must try and win as many races as possible," he said. "We are realistic and the championship situation is what it is, but we have seen so often that there can be sudden reversals. And after all, we are Ferrari and we have a moral obligation, especially for the millions of fans spread around the world, to always think of the maximum goal.
"We can't ever say we will tackle eight races without having the championship in the back of our mind: we will always have an eye on the title, at least until there is no longer the slightest chance.
"Of course we must start winning and we have to hope that Vettel makes a few mistakes or has some problems"
Alonso qualified his remarks by adding that he realised Red Bull was unlikely to lay down and hand Ferrari an advantage - particularly in light of its dominant start to the season - and therefore was not committing to a promise to win the world championship this. Though he added that as a team, Ferrari is well on its way to returning to that status.
"Formula 1 is too complicated a sport to make declarations," he said. "It requires everyone to give their all in order to win and the genius of an individual is not enough. If you look at Adrian Newey, it's not a case of him turning up at Red Bull and at a stroke, creating a winning car with a magic wand. It took years for all the team to reach the level it is at now.
"It takes great people, structures and, clearly a little pinch of genius. I am convinced we too have that genius."
Asked how he rated Ferrari's campaign so far, Alonso said: "A nine or a 10 can go to those who lead the championship, but this has not been such a bad a season for us so far.
"Sure, the beginning was very difficult: we had hoped for a better start but we did not manage it," he continued. "In China we went through what was possibly the worst point, because not only were we not fighting for the win with McLaren and Red Bull, but we were also behind Mercedes and maybe Renault, who had already scored two podium finishes. However, after that, we reacted well.
"We still lack a little something in all areas, including from the drivers, to be at the level of the best. However, I feel much more part of the team than I did a year ago. In terms of driving, I don't think I've ever been this strong."