Hamlin fears engine reliability issues may hamper title hopes
| | |
| --- | --- |
| By Diego Mejia | Friday, August 5th 2011, 22:21 GMT |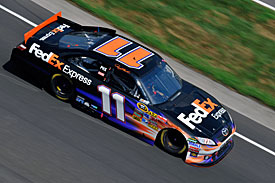 Denny Hamlin has voiced his fears that reliability issues could cost his team the chance to battle for this year's Sprint Cup series title.
Hamlin and his Joe Gibbs Racing team-mates have suffered from repeated engine failures during the season, not only in races but also during practice sessions - the last costing Hamlin a poor starting spot at Indianapolis a week ago, as he had to go to the back of the grid after switching power-plants before qualifying.
Earlier this season Hamlin's team-mate Logano retired at Phoenix with an engine issue, Kyle Busch had one at Las Vegas while Hamlin had his share at Fontana. A handful more have taken place before races.
Joe Gibbs Racing have their own engine programme - which has been said to be under review looking forward - while other Toyota teams like Michael Waltrip Racing and Red Bull Racing get their units from TRD (Toyota Racing Development), which has a superior reliability record this year.
Speaking at Pocono, Hamlin said his team is currently getting support from TRD so that it can get its reliability back on track ahead of this year's Chase.
"The good news for us is we've got a lot of people at TRD helping try to work through the issues," said Hamlin. "But, really at this point there's not a whole lot I can do about it. Just kind of hope and pray that it holds together for us.
"I think that they're making strides and trying to get better, and it's not from a lack of effort by any means. Obviously, we need to lean on those guys at TRD to try to help us work through it because it looks like their engine programme has gotten reliability kind of sorted out here in the last couple of years."
Hamlin, last year's Sprint Cup series runner up, is currently 11th in the driver standing and although he is in the Chase 'bubble', he stands as the leading candidate for one of the two wildcard entries into this year's playoff thanks to his victory at Michigan.
With only six races left before the Chase begins any reliability issues in the coming weeks could threaten his chances of being part of this year's play-off as Richard Childress Racing's Paul Menard, Roush Fenway's David Ragan and Penske's Brad Keselowski are on the outside looking in, also with a victory to their names.
Hamlin has been the only driver to make the Chase consecutively for the past five years besides reigning champion Jimmie Johnson.
"We are in a danger zone," Hamlin admitted. "We don't want to be where we're at, but we know we're very capable of winning this race, the next race, the next race and theone after that.
"We're not terribly alarmed, but obviously with the reliability issues and I hate to keep going back to that, but you never know what can happen. Those guys could gain 30 points on you just like that in one week and I don't think that they're that far behind.
"We've got a little assurance knowing that Michigan victory hopefully will keep us in."
Hamlin's team-mate Busch is virtually locked in the Chase thanks to his three wins thus far, while Logano is currently 19th in the standings.