Edwards glad to focus now back on championship bid after re-signing with Roush
| | |
| --- | --- |
| By Diego Mejia | Friday, August 5th 2011, 20:09 GMT |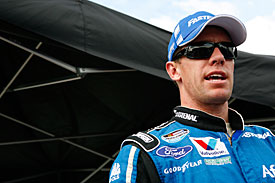 Carl Edwards says his decision to sign a new multi-year deal with Roush Fenway Racing was purely driven by performance as he and his team focus back on winning this year's title.
Roush Fenway Racing announced Thursday that its leading driver for the past few seasons is set to stay put for a number of years as the team tries to break into Jimmie Johnson's dominance at NASCAR's top level.
Speaking Friday at Pocono Raceway, Edwards said he was glad to focus back on this year's title campaign as he continues to lead the driver standings with just six weeks left before the Chase for the Sprint Cup.
"I'm just excited to move forward," said Edwards. "This team is in a position that we've never been in before. We feel that we're fast for the right reasons and we have the opportunity to go out here and win this championship, so I'm glad it's behind us.
"I'm glad to be here racing and going for the championship."
The former Nationwide Series champion and Sprint Cup series runner up didn't reveal how close he came to racing for another team, amid speculation linking him with Joe Gibbs Racing.
He stated that his decision was mainly based on choosing where he thought he had the best chances of becoming a Sprint Cup champion.
"Whenever I'd start feeling that pressure start creeping in from the outside I'd think, 'OK, let's get back to the basics here'," said Edwards. "'Where can I win the most championships? And what would I do if other people's opinions weren't a factor?'
"So that helped me a ton and I think my family and Jack's [Roush] patience and Jack's support, all of those things helped me do that.
"When I talked to Jack on the phone and he said, 'Look, Carl, you do whatever you think is best for you.' He said those words to me and that meant the world.
"It meant that I didn't have that pressure to do something for any reason other than what I thought was best. That was huge."
Edwards was quick to deny that a last minute offer from Ford was what lured him from going elsewhere and close a deal to remain at Roush for the foreseeable future. Jack Roush added that any dealings between Ford and his driver were related to a personal services agreement, not directly linked to his contract with the team.
"The deal with Ford there was no difference in the deal at the last minute or anything," said Edwards. "My deal with Ford is that I believe in the company. I believe in the products that they make and just like everyone else at Ford and Roush Fenway Racing, if Ford benefits, I have the potential to benefit from that success too.
"But there was no last minute influx of money or anything like that. That's a false assumption."
Jack Roush revealed that following the agreement with Edwards they are currently finalising new deals with sponsors, although he said the team still has to raise a full 2012 budget for the #99 car, also for its other three Cup entries.