Red Bull pledges to come back fighting after summer break
| | |
| --- | --- |
| By Jonathan Noble | Monday, August 1st 2011, 10:25 GMT |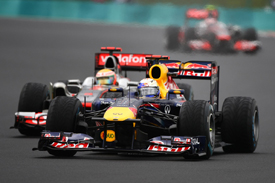 Red Bull Racing boss Christian Horner wants his team to use the summer to get its energy back so that it can arrive at the Belgian Grand Prix ready to make the final push for title glory.
After seeing rivals Ferrari and McLaren win the last three grands prix, the runaway championship leader is facing up to the reality that it may no longer have a comfortable performance advantage.
Horner is not too disheartened by recent form, though, and thinks that Sebastian Vettel's consistent points scoring on difficult weekends is reason to be encouraged.
"All things considered, on a day like today, you have the ability for more things to go wrong than right," he explained. "So to come away second, with Seb having extended his lead in the drivers' championship after the conditions we faced in Hungary, is a really positive result.
"The McLarens were quick at certain stages of the race and we were quick at other stages of the race, and it would have been fascinating had it been dry until the end after that last stop.
"We thought we were looking in good shape. We elected to go down a different strategic route to go onto the prime tyre and then it rained for probably two or three laps. The slick was the wrong tyre to be on, and 50 per cent of the grid came in for an intermediate.
"For those two laps it was the right thing to do, but then the rain stopped, which meant an additional stop for Mark Webber that probably cost him a podium today."
Vettel may well have been disappointed with second place in a race he felt he could win, but Horner sees reasons to be encouraged - and promises a strong response for the Belgian GP.
"It is very tight between three teams at the moment and for Sebastian going into the summer break, to have won six races and to have had four seconds and a fourth; it is a fantastic set of results.
"Obviously there is still a long way to go, and we qualified on pole at every single GP this year, so we are determined to make sure we come out of the blocks recharged in good shape."
Horner thinks that the improved form of McLaren and Ferrari in recent races has alerted his team to the fact it has to lift its game, and he is sure his men know exactly what they need to do.
"Our focus is to turn up and try and win every grand prix. I think that at different stages of the race, the McLaren was quick and we were quick.
"We are in the heart of the development push now and we learned a lot of lessons in the last two weekends that stand us in good stead for the upcoming races."
He added: "It was a very, very mature drive from Seb. He wants to win. He is focused on winning races and he will continue to push. He also knows that on days he cannot win, to finish second is not a disaster."