Sebastian Vettel says winning Hungarian Grand Prix was possible
| | |
| --- | --- |
| By Jonathan Noble and Pablo Elizalde | Sunday, July 31st 2011, 14:40 GMT |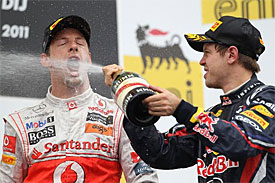 Sebastian Vettel believes victory in the Hungarian Grand Prix was possible, the German conceding he was not 100 per cent happy with second place.
Vettel, who was starting from pole position, crossed the finish line over three seconds behind race winner Jenson Button.
It was the third race in a row that Vettel, winner of six of the first eight races of the season, did not win.
The Red Bull driver says his team must react and fight back at Spa after the summer break.
"I think that win was in reach today so it was not impossible," said Vettel. "The emotions are going through right now. In the championship it was a good race with a lot of people finishing behind us apart from Jenson.
"I think the most important message is that especially McLaren in the last two races are very competitive. We are not happy with that, I am sure Jenson is, so we need to come back for Spa."
He added: "Today I am not 100 per cent happy. I started from pole and felt I could win race, it was not impossible, with many drivers doing small mistakes. So I' mot 100 per cent happy because the target is to win and not be second.
"We got good points today but there is a long, long way to go. We have seen how quickly things can change so we need to make sure we see the chequered flag.
"Yes, I am happy but not entirely. We go out there, we try to get pole on Saturday, we did yesterday and we try to win on Sunday, which we didn't do today. There was a chance and we didn't use it, so we need to look into that."
Despite finishing second, Vettel managed to increase his lead in the standings to 85 points to team-mate Mark Webber.
But the German claimed he is still not thinking about the title, but rather about winning as many races as possible.
"I think second in the championship is Mark but I don't know how many points, I don't care, I don't calculate them," he said. "I see Fernando ahead of me on a different set of tyres and I don't think about the championship when I am racing, I think about trying to win.
"Jenson scored more points today, other people scored less, but that is not really important. Our target has to be to win races and I can tell you - we still feel very hungry. I feel hungry, hungry in Hungary, to win races."