Fernando Alonso tips McLaren duo as Hungarian Grand Prix favourites
| | |
| --- | --- |
| By Jonathan Noble | Sunday, July 31st 2011, 08:12 GMT |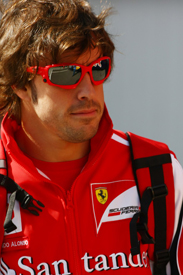 Fernando Alonso has tipped the McLarens as his favourites for victory in the Hungarian Grand Prix - although which of its two drivers succeeds will depend on the run to the first corner, he feels.
Despite Sebastian Vettel maintaining Red Bull Racing's lock-out of pole positions this season at the Hungaroring, McLaren has looked to be a serious threat for victory, with Lewis Hamilton and Jenson Button qualifying second and third.
And Alonso, who will start from fifth on the grid, thinks it is McLaren that is looking stronger overall than Red Bull Racing.
"Looking at the whole weekend, the McLarens are a bit quicker than the Red Bulls I guess," he said. "I think Hamilton can be the one that has the better pace in the race, but it is true also that he starts from the wrong side of the grid, so maybe Jenson could overtake him.
"We need to see how the first laps develop and how the starts are for everybody. It is true that Red Bull is dominant in qualifying and in the races they struggle quite a bit. Here, they struggle in qualifying so I expect McLaren to be very strong."
Alonso said he was not too surprised to start from the third row of the grid, even though many had expected the Ferrari to be right at the front.
"We were fourth and fifth at the Nurburgring a week ago, and we are fourth and fifth here," he explained. "In the first two sectors we look always okay, but in the last sector we lose a lot of time.
"There is not much we can do there. Our competitors did a better job than us. In qualifying we are behind but hopefully we can recover."
Although Alonso's recent run of good form has resurrected hopes that he can still fight for the championship, the Spaniard insists that his only thought at the moment is to go on maximum attack to try and win as many races as possible.
"The championship is not in our hands, it is in Sebastian's hands," he said. "We need to put pressure on him every weekend. We need to enjoy every weekend, race like it is like the last race, race for fun and not think of the championship.
"We need to take risks, be aggressive in the first corner, and in the last corner. Don't think of the championship; just be very aggressive. We have nothing to lose.
"So it is the same approach we took a couple of races ago, and we will keep doing it. No one thinks of the championship now when you are 90 points behind. It is not our job now; our job is to win every race we go to."