Romain Grosjean tops first GP2 practice session at the Hungaroring
| | |
| --- | --- |
| By Glenn Freeman | Friday, July 29th 2011, 10:45 GMT |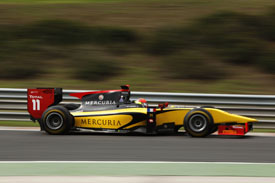 Romain Grosjean kicked off the GP2 action at the Hungaroring by topping free practice.
The championship leader set his session-topping time surprisingly early. Initially he enjoyed a gap of half a second over his closest pursuers, with Christian Vietoris and Giedo van der Garde leading the chase.
Both drivers improved in the middle of the session, but all they could do was edge closer to the DAMS driver's time rather than surpass it. Van der Garde then had dramas in the pitlane in the closing minutes as he could not select first gear. Work by the Addax team enabled him to get on-track for an out lap at the end of the session.
On track there was little action at the front. Grosjean was unable to better his early effort, but he didn't need to as nobody in the top 10 went quicker in the second half of the session.
That left ART's Jules Bianchi fourth ahead of Vietoris' team-mate Dani Clos, who made sure both Racing Engineering cars got into the top five. Adam Carroll, who only returned to GP2 last weekend at the Nurburgring, completed the top six for Super Nova.
Pos  Driver               Team                Time       Gap
 1.  Romain Grosjean      DAMS                1m31.173s
 2.  Christian Vietoris   Racing Engineering  1m31.241s  + 0.068s
 3.  Giedo van der Garde  Addax               1m31.345s  + 0.172s
 4.  Jules Bianchi        ART                 1m31.680s  + 0.507s
 5.  Dani Clos            Racing Engineering  1m31.725s  + 0.552s
 6.  Adam Carroll         Super Nova          1m31.824s  + 0.651s
 7.  Fabio Leimer         Rapax               1m31.845s  + 0.672s
 8.  Davide Valsecchi     AirAsia             1m31.855s  + 0.682s
 9.  Max Chilton          Carlin              1m31.909s  + 0.736s
10.  Sam Bird             iSport              1m31.985s  + 0.812s
11.  Luca Filippi         Coloni              1m32.000s  + 0.827s
12.  Mikhail Aleshin      Carlin              1m32.091s  + 0.918s
13.  Charles Pic          Addax               1m32.101s  + 0.928s
14.  Marcus Ericsson      iSport              1m32.106s  + 0.933s
15.  Josef Kral           Arden               1m32.117s  + 0.944s
16.  Pal Varhaug          DAMS                1m32.171s  + 0.998s
17.  Luiz Razia           AirAsia             1m32.210s  + 1.037s
18.  Johnny Cecotto       Ocean               1m32.219s  + 1.046s
19.  Stefano Coletti      Trident             1m32.464s  + 1.291s
20.  Jolyon Palmer        Arden               1m32.487s  + 1.314s
21.  Rodolfo Gonzalez     Trident             1m32.600s  + 1.427s
22.  Julian Leal          Rapax               1m32.636s  + 1.463s
23.  Fairuz Fauzy         Super Nova          1m32.659s  + 1.486s
24.  Michael Herck        Coloni              1m32.676s  + 1.503s
25.  Kevin Mirocha        Ocean               1m32.687s  + 1.514s
26.  Esteban Gutierrez    ART                 1m32.863s  + 1.690s