Gilles Simon leaves FIA to join Pollock's PURE engine company
| | |
| --- | --- |
| By Pablo Elizalde | Thursday, July 28th 2011, 14:54 GMT |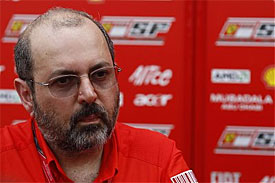 Gilles Simon has left his position as the FIA's director of power train and electronics to join the PURE corporation as technical director.
Simon, who had joined the FIA from the Ferrari team in December of 2009, will join Craig Pollock's company, which has plans to build Formula 1 engines from the 2014 season.
Simon had been been Ferrari's engine chief from 2006 until October of 2009.
He will start working for PURE next month.
"This appointment marks another key milestone in the development of PURE," said Pollock.
"With Gilles Simon on board we have an exceptional and proven power train designer who has been instrumental in driving an environmentally friendly agenda into F1."
Simon added: "Making F1 more environmentally friendly is a personal goal of mine. The 2014 power train regulations mark the biggest change in this area of F1 for a generation.
"This opportunity to develop the PURE power train is a fantastic challenge and allows me to go to back to my passion - designing engines."
PURE, launched in May of this year, is aiming to build and develop an environmentally-responsible engine for Formula 1.
"Gilles leaves the FIA with my thanks and best wishes," said FIA president Jean Todt. "We have worked together on a variety of projects over many years, at Peugeot, Ferrari and at the FIA, and I know how much of his life has been devoted to his love of designing power trains.
"After a very fruitful 18-month period at the FIA where he has been able to leave a significant legacy in the 2014 power train regulations, Gilles has been offered an opportunity at PURE that will enable him to make a substantial contribution to a new era in F1. I wish him a successful future."