| | |
| --- | --- |
| Rossi wants more Ducati progress after sixth place in Laguna Seca | |
| | |
| --- | --- |
| By Michele Lostia and Pablo Elizalde | Tuesday, July 26th 2011, 15:48 GMT |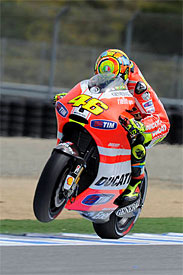 Valentino Rossi insists his Ducati team must do more in order to make progress towards the front despite admitting he felt more comfortable during last weekend's race in Laguna Seca.
The Italian, who has struggled with his bike this year, finished in sixth place in the United States Grand Prix after using the Ducati GP11.1, the development bike based on the 2012 chassis.
Rossi, who finished over 30 seconds off race winner Casey Stoner, admitted the set-up used in America was a step forward, but conceded there was much more work to do.
"We have problems with the front, especially when the bike leans heavily, but we need bigger modifications to solve them: we'll see how long that takes," Rossi was quoted as saying by Gazzetta dello Sport.
"Following the Hondas and the Yamahas, you realise the difference is quite big: each turn they manage to get on the gas a bit earlier than we do so, by the end of the lap, the gap gets quite big.
"We've found a good set-up here, but we must do more: the objective is to be quicker and make the Desmosedici easier to ride for everyone.
"We've brought back home what we could, but we had hope to be quicker. We've scored 108 points: the objective is to reach 200 in the second half of the season."
Ducati team manager Vittoriano Guareschi said the behaviour of Bridgestone's tyres this year was a big part of the problems.
"Our bike is like handling an eel: you grab it from one side, but it slips away from the other side. The Desmosedici doesn't turn, and if it does it's not in a normal manner," Guareschi told Motosprint.
"On our bike the front Bridgestone tyres works differently compared to the other bikes, and our riders lack feeling.
"I don't know what they have done, or what has happened, but this year's Bridgestones have certainly changed compared to 2010: they are even harder, making it difficult for our bike.
"We are unable to understand what's different compared to before. The riders feel loss of front grip and slide sideways at turn entry, and this seems even stranger considering that Nicky has the same set-up as last year. It doesn't add up, but the reality is that our bike slides sideways without warning.
"All our riders crash this way. The tyre doesn't warn them when it lets them down."
He said the GP11.1 was not improving the situation, but rather making it worse.
"No, in fact the problem is even worse. You struggle even more to find the balance. Now, however, Jeremy (Burgess) is back, and we are using again his working method that has brought so much success for Valentino.
"We suffered his absence in the two races he missed. Now we are trying to organise the second half of the season in a better way."