Boullier says Grosjean is now ready for second Formula 1 chance
| | |
| --- | --- |
| By Jonathan Noble | Tuesday, July 26th 2011, 10:28 GMT |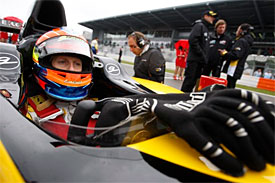 Renault boss Eric Boullier believes that Romain Grosjean is ready to be given a second chance in Formula 1, amid mounting speculation that the Frenchman could be drafted in to the Enstone-based team later this year.
Grosjean had a troubled start to his F1 career with Renault in 2009, but has rediscovered his confidence and is currently leading the GP2 Series standings.
His form has impressed Boullier and, with Nick Heidfeld not delivering all that was expected of him, Renault is understood to be considering giving Grosjean another F1 tryout - and it could even happen after the GP2 campaign finishes in Monza.
Boullier believes that Grosjean has what it takes to make a good impression in F1 - but says the team's future plans are open.
"He is obviously on my radar, yes," Boullier told AUTOSPORT. "He is doing very well in GP2, he is now showing to everybody he is mature and strong enough to be in F1, and I truly believe he has the potential to be one of the big boys here.
"Being very close to him now I can confirm that he is different, and much more mature than two years ago."
With Vitaly Petrov doing well this season, and having a contract in place for 2012, Grosjean's opportunity beyond this year will very much depend on if Robert Kubica is able to come back to racing from injury.
Although Kubica's return had appeared doubtful a few weeks ago, sources suggest he has made great progress in the last fortnight – which has lifted hopes for him competing in F1 again.
The Pole is due to have an elbow operation next month to unblock it, while the temperature of his injured right hand is crucially back to normal now, and he is said to have good hand movements.
Boullier has reiterated that the priority is for the team to wait for Kubica to make a call on what is possible, before it decides on if it needs to find a replacement.
"We are waiting to see what is going on with Robert – when he will be back and how he will be back obviously," he explained. "We are waiting for him to give us a clear understanding."
Read more about Grosjean's chances in last week's AUTOSPORT magazine.