Mitch Evans will start from pole for the first GP3 race at the Nurburgring
| | |
| --- | --- |
| By Glenn Freeman | Saturday, July 23rd 2011, 09:23 GMT |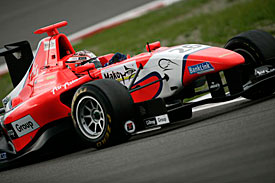 Mitch Evans took pole position for the first GP3 race of the weekend at the Nurburgring, in a session where the top four cars were covered by less than one tenth of a second.
The former championship leader snatched top spot in the final two minutes of a session which came alive once the leading runners got their second sets of tyres up to temperature with just over five minutes remaining.
In the frantic activity that followed, early provisional pole-sitter Tom Dillmann initially extended his gap over the field to a comfortable half a second.
Several drivers then chipped away at that advantage, before Evans, Antonio Felix da Costa and Rio Haryanto all edged ahead of the Frenchman at the end.
Aaro Vainio and Adrian Quaife-Hobbs were next up, just ahead of championship leader Alexander Sims. The Status driver set the best first sector of all, but his hot lap fell away in particular in the middle sector in particular.
The fourth row is an all-British affair, with Lewis Williamson and James Calado lining up seventh and eighth.
Pos  Driver                  Team       Time       Gap
01.  Mitch Evans             MW Arden   1m49.366s
02.  Antonio Felix da Costa  Status     1m49.401s  + 0.035s
03.  Rio Haryanto            Manor      1m49.444s  + 0.078s
04.  Tom Dillmann            Addax      1m49.447s  + 0.081s
05.  Aaro Vainio             Tech 1     1m49.506s  + 0.140s
06.  Adrian Quaife-Hobbs     Manor      1m49.612s  + 0.246s
07.  Alexander Sims          Status     1m49.687s  + 0.321s
08.  Lewis Williamson        MW Arden   1m49.755s  + 0.389s
09.  James Calado            ART        1m49.803s  + 0.437s
10.  Zoel Amberg             Atech CRS  1m49.811s  + 0.445s
11.  Valtteri Bottas         ART        1m49.832s  + 0.466s
12.  Luciano Bacheta         RSC Mucke  1m49.843s  + 0.477s
13.  Simon Trummer           MW Arden   1m49.887s  + 0.521s
14.  Michael Christensen     RSC Mucke  1m49.903s  + 0.537s
15.  Gabby Chaves            Addax      1m49.960s  + 0.594s
16.  Conor Daly              Carlin     1m49.964s  + 0.598s
17.  Pedro Nunes             ART        1m49.990s  + 0.624s
18.  Tamas Pal Kiss          Tech 1     1m50.006s  + 0.640s
19.  Nico Muller             Jenzer     1m50.037s  + 0.671s
20.  Vittorio Ghirelli       Jenzer     1m50.057s  + 0.691s
21.  Nick Yelloly            Atech CRS  1m50.069s  + 0.703s
22.  Marlon Stockinger       Atech CRS  1m50.130s  + 0.764s
23.  Matias Laine            Manor      1m50.184s  + 0.818s
24.  Ivan Lukashevich        Status     1m50.222s  + 0.856s
25.  Dean Smith              Addax      1m50.320s  + 0.954s
26.  Maxim Zimin             Jenzer     1m50.519s  + 1.153s
27.  Nigel Melker            RSC Mucke  1m50.612s  + 1.246s
28.  Callum MacLeod          Carlin     1m50.821s  + 1.455s
29.  Leonardo Cordeiro       Carlin     1m52.142s  + 2.776s
30.  Thomas Hylkema          Tech 1     1m52.481s  + 3.115s