Karun Chandhok happy with practice progress in Germany
| | |
| --- | --- |
| By Pablo Elizalde | Friday, July 22nd 2011, 14:26 GMT |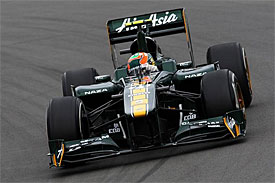 Karun Chandhok declared himself happy with his progress during practice for his first racing weekend since last year.
The Lotus driver, replacing Jarno Trulli for this weekend's race at the Nurburgring, had two productive sessions, finishing as 20th quickest in the afternoon.
Although he was one and a half seconds slower than team-mate Heikki Kovalainen, Chandhok said he was pleased with all that he had learned during the day.
"That was good day of learning," said Chandhok. "The main area I've been looking at is the brakes - we use a different material here to my previous team so I think that's why I've maybe ended up with quite a lot of square tyres today!
"I had a few moments under braking, and a couple of lock-ups, but that's what today was about - getting used to the tyres and the brakes and easing myself into a place where I can start to push.
"Over the day I improved my time from this morning by over 1.5 seconds, so I'm pleased with that, and now I'll work with the engineers to find more time and keep pushing forwards tomorrow."
Kovalainen was also happy with his work after posting the 18th fastest time, having completed most laps than any other driver.
"I'm pleased with today's performance – that was one of the good Fridays," said the Finn. "We completed more laps than anyone else out there and the car has felt good all day.
"I can feel that we have made a decent improvement to the back of the car which helped us find a good balance pretty early on and it was working well on both tyre compounds, so this goes down as a good days work."