Sebastian Vettel wary of Ferrari threat in the German Grand Prix
| | |
| --- | --- |
| By Jonathan Noble and Pablo Elizalde | Friday, July 22nd 2011, 14:09 GMT |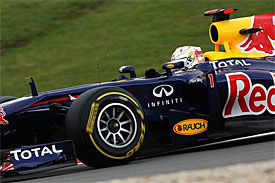 World champion Sebastian Vettel believes Ferrari will be very strong in this weekend's German Grand Prix judging from its practice form.
Fernando Alonso, the winner of the previous race in Britain, topped the times in the morning session and then split the Red Bulls in the afternoon, finishing behind pace-setter Mark Webber but ahead of Vettel.
The championship leader reckons Ferrari will be a big threat this weekend, and he said it was good to see the Italian squad being strong again, as it shows the talk about how the diffuser rules affected teams was pointless.
"I think it is a good thing, as it shows that all this exhaust talk was a bit useless," said Vettel of Ferrari's form. "I think Ferrari again looks a bit competitive after what we have seen today with both cars.
"McLaren was very difficult to judge if they are back to where they were for the majority of the season, in terms of exhaust and blowing so we will see. They will be quick again tomorrow so you cannot forget about them.
Vettel, who finished over three tenths of a second behind Webber, reckons there is still room for improvement this weekend.
"I think if we can make a step forward then it is worth a lot. We don't know the conditions for tomorrow and Sunday, rain is forecast it is on the way, it is a question or when and where it will hit us. Now we need to sit down, see what we can improve but surely there is room to improve."
Webber, meanwhile, was happy with his day and reckons a win in on the cards, but he admits he will have to get it all right on Sunday.
"It's all the fine margins I keep talking about - get the start, first stint and building up. My race at Silverstone wasn't too bad but Fernando drove a very good race and Seb and I pretty close. To beat everyone on the day you have to get everything right and I hope to do that on Sunday."
He added: "So far so good. The car feels pretty good, Fernando and Seb are really quick as well and you never know when McLaren - whether they might turn up as well tomorrow as we don't know what they have been doing today.
"We have concentrated on ourselves, and it was good. Nice it stayed dryish as it's easier to manage from everyone's side, but whatever is thrown at us this weekend we should be ready for it and I am really comfortable."