Chandhok eyes full-time Lotus drive for 2012
| | |
| --- | --- |
| By Jonathan Noble and Pablo Elizalde | Thursday, July 21st 2011, 12:28 GMT |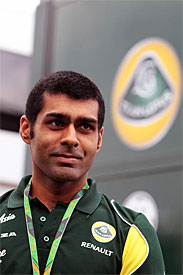 Karun Chandhok believes his return to racing this weekend is a good opportunity to try to secure a drive with Lotus next season.
The Indian driver, who had last raced in F1 in the 2010 British Grand Prix, is replacing Italian Jarno Trulli for this weekend's race at the Nurburgring.
Chandhok, whose deal is supposed to be a one-off, says he has his sights set on a full-time drive in 2012.
"I'd love to be back with Lotus next year," said Chandhok on Thursday. "I'd love to be here racing full-time next year.
"I think Tony [Fernandes] said he would love to have an Asian driver one day, but he's not just going to have me because of me.
"So it's a good chance for me to earn respect internally. I'm looking forward to it. I know the circuit from GP2, so that's one box ticked, but there's plenty of other things to learn."
The Indian, who has been the team's reserve this year, admitted he is keeping his expectations in check, and is aiming to outperform the Virgin and HRT drivers.
He conceded beating team-mate Heikki Kovalainen may be tall order.
"Fortunately I've done three days of straightline testing, and I've done Silverstone Friday, which was quite useful and we weren't so far away from the pace there," he said. "So realistically here, I'm taking it one step at the time, see how tomorrow goes.
"The forecast is changing all the time depending on who you talk to. It'd be nice to get two clean sessions and then see where we are. I think a realistic expectation would be to be ahead of those four [Virgin and HRT], but I think it'd be unrealistic to expect me to be ahead of Heikki."
He added: "As I said, as long as people within the team know what the expectations are, it's just a good chance for me to build a foundation to present the case. As long as they see progress from Friday to Sunday... That's what they want. Tony said to me that I should just show progress through the weekend. That's what they want."