AJ Foyt Racing to use Honda engines in IndyCar next year
| | |
| --- | --- |
| By Jamie O'Leary | Wednesday, July 20th 2011, 09:24 GMT |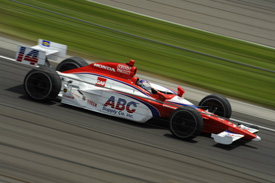 AJ Foyt Racing will retain Honda power when IndyCar's new V6 turbocharged engine formula comes into play next year.
Team owner Foyt, a four-time Indianapolis 500 winner, said that there was nobody he would rather have powering his machines when IndyCar enters its 'new era'.
"I am really looking forward to working with Honda next year," he said.
"I think they will provide us with the best engines in 2012 because they have the best resources... Their facility is unbelievable. I was very impressed.
"The other thing is that I really enjoy working with the Honda management team. I think they have been very fair and honest with our team and you don't see that too often in this day and age. When people treat us right, I don't forget that."
Foyt, which currently fields a single car for Vitor Meira, is the second team to confirm Honda powerplants for 2012 after Chip Ganassi Racing. Team Penske will use Chevrolet engines while Lotus has yet to recruit any teams to use its engines.
The engines will be built at Honda's High Performance Development headquarters in California.
HPD president Erik Berkman said: "AJ shares many traits with Soichiro Honda, the founder of our company. Passionate, dedicated men, their names became synonymous with racing in their native lands, and each has served as a symbol of his country's passion for motorsport around the world.
"Today, we consider AJ to be a venerable member of the Honda 'family', and we look forward to our continued association with both the man and his team."