Heikki Kovalainen insists Team Lotus can still be proud of its 2011 campaign
| | |
| --- | --- |
| By Jonathan Noble and Simon Strang | Monday, July 18th 2011, 12:21 GMT |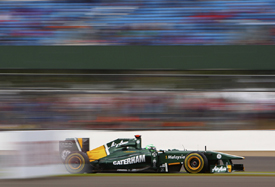 Heikki Kovalainen reckons Team Lotus should remain proud of its efforts in Formula 1 this season - even though it has not achieved ambitious targets it set itself at the start of the campaign.
The Hingham-based outfit had hoped to be scoring regular points this year, thanks to a switch to Renault engines and a deal to use Red Bull Racing's gearbox.
However, despite making good progress with its car and currently sitting in 10th place in the constructors' championship, its best finish has been 13th - a feat matched by rival HRT.
Although acknowledging that the results have not been as good as expected, Kovalainen thinks that Team Lotus has still done a good job – and that better results will follow as its facilities are built up.
"I would say that our expectations were too high," Kovalainen told AUTOSPORT. "Though we have closed the gap compared to last year, where we were five seconds behind, now we are 2.5-3s behind, so we have taken a lot of steps forward.
"But now, looking into year two and into the midfield if you like, many teams are stuck there. The reason for this is because it is very, very tough - and at the moment we are still missing the facilities. We don't have a good enough factory. I don't think our wind tunnel is good enough."
He added: "We have a lot of good people in the team but, at the moment, I don't think you can judge them, because the tools that they have are not good enough yet. So we need to give the people better tools to actually show what everyone can do – including myself."
Kovalainen is delighted with the way he has settled into the team after his switch from McLaren, and believes the atmosphere and structure is helping him flourish.
"Yeah I feel much more in control of the situation when I am driving generally and when I am in the paddock," he said. "But there are reasons why I feel that way.
"In fact now, the way I feel, with a good car I could do a very good job. My experience is now high, I have made mistakes in the past and I haven't always necessarily done the right things but I have learned from the past and all the problems, and I think I have become a very solid and good, quick driver.
"I have no single doubts about my own ability and, at the moment, I am very happy about the situation and my position in Team Lotus. Building everything from the beginning has created a strong position within the team and this is very important obviously for the future when the car gets quicker."