| | |
| --- | --- |
| Valentino Rossi now unsure about ditching Ducati GP11.1 for US GP | |
| | |
| --- | --- |
| By Jamie O'Leary and Michele Lostia | Monday, July 18th 2011, 10:24 GMT |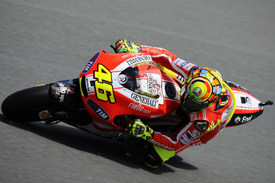 Valentino Rossi is now unsure about switching back to Ducati's old-spec GP11 following an improved performance at the German Grand Prix.
After qualifying a dismal 16th for the Sachsenring race, Rossi said that the revised GP11.1, which was introduced three races ago and is largely based on next year's bike, was difficult to ride.
He believed that he would be better served by reverting to the old machine in time for this weekend's United States Grand Prix at Laguna Seca than by staying with his current bike.
However, a raft of set-up changes performed overnight and after warm-up transformed the handling of his machine and helped him to a ninth place finish.
Rossi is now more confident about the potential of the GP11.1 for the rest of the season.
"On Saturday night I was sure [of using the old bike at Laguna Seca], but seeing how I went here, we'll have to think about it," he was quoted as saying by Gazzetta dello Sport.
"In the morning [of the race] we made a fairly big modification that we had never done before: it's a different weight balance, with more weight shifted towards the back, so that I had more grip at the rear. This way I managed to be quicker for the whole race.
"We've improved, but we are always too far off the others. Most of all it's bad news that [team-mate Nicky] Hayden's GP11 and my GP11.1 went more or less the same, while we had hoped the GP11.1 would be quicker.
"I have problems with the front, but I'm no engineer and I don't know what to suggest. It's up to Ducati to find the answers. As far as I know they are seriously thinking about it. Maybe even about using a smaller front fork."
Rossi said that the tribulations of the season - which have left him without a win and 70 points behind Casey Stoner in the riders' championship - have not affected his commitment to Ducati.
When asked about his future with the Italian manufacturer, Rossi, who previously won world titles on Honda and Yamaha machinery, said: "I've replied 'I think so', meaning that it seems logical to me to stay here."