Felipe Nasr wins Paul Ricard British F3 finale as rivals collide at last corner
| | |
| --- | --- |
| By Ben Anderson | Sunday, July 17th 2011, 15:56 GMT |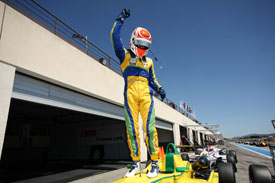 Felipe Nasr completed a British Formula 3 double at Paul Ricard by winning the final race of the weekend when rivals Antonio Felix da Costa and Kevin Magnussen collided on the last corner of the last lap.
The trio had circulated in close company throughout the race, which required the first four laps to be spent behind the safety car when Jazeman Jaafar (Carlin) and Pietro Fantin (Hitech) collided at the first corner in an incident that also eliminated Double R's Scott Pye and Harry Tincknell (Fortec).
Poleman Magnussen led the way again following the restart and resisted intense pressure from both Nasr and da Costa as the top three ran within a second of one another for much of the race.
Nasr's bid for victory appeared to end when he tagged the back of Carlin team-mate Magnussen while in the Dane's slipstream at Signes on lap 10 of 17.
The delay presented da Costa with an opportunity and the Hitech racer swept into second through the first chicane at the start of the next lap.
After taking his turn to pressure Magnussen, and even making a few feints down the inside at the long Beausset right-hander, da Costa came under renewed attack from Nasr.
The Brazilian dived back through into second at the first part of Saint-Beaurne with two laps to run, but was re-passed by the Portuguese on the exit.
After repelling Nasr down the Mistral straight and through Signes, da Costa mounted one final assault on Magnussen. The pair collided as da Costa dived down the inside at the final corner, allowing Nasr through to win.
The collision tipped Magnussen off the track and into retirement, while da Costa recovered to cross the line second.
Having held off Carlin rookie Jack Harvey for the duration, Fortec's Will Buller inherited the final podium place as a result.
Carlin team-mates Rupert Svendsen-Cook and a Carlos Huertas rounded out the top six, while Fortec's Fahmi Ilyas scored the best result of his F3 career with seventh.
Sino Vision's Hywel Lloyd claimed eighth while T-Sport's Bart Hylkema and Double R's Pipo Derani inherited the final points when Adderly Fong took out T-Sport's Yann Cunha at the chicane that punctuates the Mistral straight on the penultimate lap.
Results - 17 laps:

Pos  Driver                  Team/Car                    Time/Gap
 1.  Felipe Nasr             Carlin Dallara-VW         40m52.715s
 2.  Will Buller             Fortec Dallara-Merc         + 3.248s
 3.  Jack Harvey             Carlin Dallara-VW           + 3.734s
 4.  Rupert Svendsen-Cook    Carlin Dallara-VW           + 9.626s
 5.  Carlos Huertas          Carlin Dallara-VW          + 10.327s
 6.  Fahmi Ilyas             Fortec Dallara-Merc        + 17.462s
 7.  Hywel Lloyd             Sino Vision Dallara-Merc   + 24.990s
 8.  Bart Hylkema            T-Sport Dallara-VW         + 26.775s
 9.  Antonio Felix da Costa  Hitech Dallara-VW          + 31.504s
10.  Pipo Derani             Double R Dallara-Merc      + 32.711s
11.  Kotaro Sakurai          Hitech Dallara-Mugen       + 43.028s
12.  Menasheh Idafar         T-Sport Dallara-VW         + 54.094s

Retirements:

     Kevin Magnussen         Carlin Dallara-VW            16 laps
     Adderly Fong            Sino Vision Dallara-Merc     16 laps
     Yann Cunha              T-Sport Dallara-VW           16 laps
     Lucas Foresti           Fortec Dallara-Merc          11 laps
     Pietro Fantin           Hitech Dallara-VW             0 laps
     Scott Pye               Double R Dallara-Merc         0 laps
     Harry Tincknell         Fortec Dallara-Merc           0 laps
     Jazeman Jaafar          Carlin Dallara-VW             0 laps