Craig Dolby puts Team England on Superleague pole at a wet Zolder
| | |
| --- | --- |
| By Charles Bradley | Saturday, July 16th 2011, 14:07 GMT |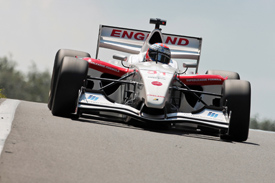 England's Craig Dolby will start round two of the Superleague Formula Nations Cup from pole position after winning a dramatic rain-affected final against New Zealand's Chris van der Drift.
Rain fell just before and during the final, the climax of Superleague's unique knock-out qualifying format, for which Dolby chose to run second on the road.
He was already up by over 0.8 seconds at the first split and was in command of the duel even before van der Drift locked up and went off at Bolderbergbocht, allowing Dolby to overtake and cruise to the finish, winning by 5.2s.
"It was good, I just kept my head," said Dolby. "I got away with a few mistakes in the knock-out stages. The final was unbelievable, it was so slippery. I found the grip on the warm-up lap, and knew I was eight-tenths up on the first sector and then Chris made his mistake, but I think we had it in the bag anyway. I'm going for three wins tomorrow."
Van der Drift, who didn't contest the opening round at Assen and has been racing in Formula Renault 3.5 instead, said: "I just hit the brakes and you just don't know how wet the track is. I braked late and lost the rear and went straight on. It's better than I expected, a front row is cool. It would've been nice to have done the opening round, but doesn't feel like I've been out of [this] car for as long as I have."
In the first semi-final, van der Drift thrashed Frederic Vervisch (Luxembourg). The Kiwi was already 0.3s up at the first split and 0.7s up at the second. He maintained his advantage to the finish line, dropping only a couple of hundredths in the final sector to win by 0.717s.
In the second semi, there was drama straight away when Dolby stalled at the end of the pitlane when his boot got stuck on the pedal. Despite this, once he was going Dolby had the presence of mind to save his push-to-pass until the latter stages of the lap, so although he ran 0.2s slower through the first and second sectors, he still pipped Neel Jani (Belgium/Anderlecht) by a fraction of a second. Jani's team then protested against Dolby getting assistance to restart, but after a delay while stewards looked into it, Dolby was allowed to progress to the final.
In the quarter-finals, a thrilling southern-hemisphere duel between Australia and New Zealand was resolved in favour of van der Drift after a great second sector time was enough to beat John Martin - who was quickest overall in the group sessions - by 0.024s, who admitted to "messing it up by being scruffy". Vervisch defeated Robert Doornbos (now driving for Japan) by 0.015s by overturning a three-tenth deficit in the final sector thanks to his strategic use of push-to-pass.
Jani produced a devastating lap - his 1m18.694s the fastest of the weekend - to defeat Assen race one winner Yelmer Buurman (Netherlands/PSV) by 0.788s as the latter struggled with low tyre temperatures. Dolby beat Andy Soucek (Spain) despite being very ragged in sector one (admitting on his in-lap "I had a shocker"), but the Englishman saved his push-to-pass for later in the lap and he won through by almost 0.4s. "I did such a bad lap,""shrugged Soucek.
Preceding the knock-out rounds, in Group A newcomer Mikhail Aleshin (Russia) spun at the chicane behind the paddock, flying over the kerbs as he rotated and failing to make it through to the knock-outs along with Assen race two winner Duncan Tappy (now racing for Turkey) and Filip Salaquarda (Czech Republic/Sparta Prague).
In Group B, the big shock was Assen poleman Tristan Gommendy (France) falling at the first hurdle, his efforts not helped by coming across a dawdling Antonio Pizzonia (Brazil), who also didn't make it through along with the South Korea car of series returnee Max Wissel, the latter duo missing the cut by 0.043s and 0.048s respectively.
Pos  Driver               Team                Time
 1.  Craig Dolby          England             1m27.901s
 2.  Chris van der Drift  New Zealand         1m33.186s
 3.  Neel Jani            Belgium/Anderlecht  1m19.089s
 4.  Frederic Vervisch    Luxembourg          1m19.807s
 5.  Robert Doornbos      Japan               1m19.657s
 6.  Yelmer Buurman       Netherlands/PSV     1m19.482s
 7.  Andy Soucek          Spain/Madrid        1m20.155s
 8.  John Martin          Australia           1m19.521s
 9.  Max Wissel           South Korea         1m19.504s
10.  Filip Salaquarda     Czech/Sparta Praha  1m19.800s
11.  Antonio Pizzonia     Brazil              1m19.509s
12.  Duncan Tappy         Turkey/Galatasaray  1m19.966s
13.  Tristan Gommendy     France/Bordeaux     1m20.280s
14.  Mikhail Aleshin      Russia              1m20.466s