Kyle Busch: 2011 is my best title chance yet
| | |
| --- | --- |
| By Diego Mejia | Saturday, July 16th 2011, 00:17 GMT |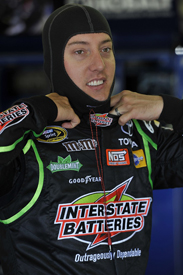 Kyle Busch believes his 2011 season is proving to be his best opportunity yet to claim the NASCAR Sprint Cup Series title.
The Joe Gibbs Racing driver currently leads the drivers' standings halfway through the season and only eight races before the Chase field is set. He also leads the series in wins, having already claimed three victories to all but lock him into this year's play-off.
Busch, who could also reach a career milestone this weekend by taking his 100th NASCAR win at Loudon, is confident his team is ready to contend for a title as changes made over the past few years have finally settled in, with his crew chief Dave Rogers taking a leading role.
"I've won a Nationwide championship and obviously that's way different than a Cup championship," said Busch. "Ultimately that's the next task. That's the next challenge. We're up for it, we're looking forward to it.
"I feel like this is the best opportunity we've had in the past few years. Dave has done a really nice job building the team and the team has been right there following him every step of the way. It takes leadership. It takes guys believing in the programme, which I feel like we're at so we'll see how it goes.
"I'd certainly like to think that we're championship calibre and that if we can get one [Cup title] knocked out of the way then we're champions for the rest of our lives. Then we can go after two, three or however many more."
Three years ago Busch looked set to be Jimmie Johnson's main opposition during the Chase after being dominant through the regular season but early woes in the opening races of the play-off hit his chances of seriously contending for the title. Looking back, Busch hopes to avoid a repeat of such issues this year.
"I think the biggest thing is that you have to be prepared," says Busch. "You have to have your guys doing a good job. You have to do a good job.
"Whenever we came here to Loudon, I probably didn't do the best job in practice getting the car set up like I needed it. Sunday in the race we didn't quite get the sway bar bolt tightened up all the way or something happened there and something broke. Obviously, we lost our sway bar and struggled along here.
"Went the following week to Dover and blew an engine. Then we went the following week to Kansas and felt like we had water in the fuel system. Things like that just seem to relegate us to finishes that we hadn't seen all year that we didn't want to have happen at that moment, but it did. Certainly we hope we can have better success."
Busch is competing this weekend both in the Nationwide and Cup series at Loudon and has a double chance of winning his 100th NASCAR race. He says reaching that milestone will not be a way of comparing himself against the all-time NASCAR greats, but will simply be a boost.
"I don't think about it," said Busch. "For myself, it's just my own milestone. It doesn't have anything to do with anybody else's milestone that's been in the sport. It's something that I said I wanted to accomplish for Kyle Busch, not something that I wanted to accomplish in order to beat David Pearson or Richard Petty or anybody else out there.
"To me, it's just like when I was a little kid I wanted something to reach for so I put the Sprint Cup Series on a pedestal and went after it and tried to see if I could get there. Opportunity arose, I made it and now the next step is what else can you do?
"You put a championship up there, you put a lot of wins up there. Just something to kind of keep you going over the years just to kind of make sure you don't fall flat and get stagnant and just ride around out here."