Massa confident Ferrari will be very strong in second half of 2011
| | |
| --- | --- |
| By Jonathan Noble | Friday, July 15th 2011, 11:06 GMT |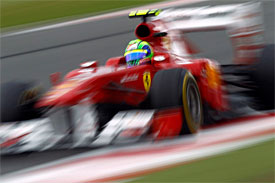 Felipe Massa says Ferrari is heading into the second half of the season confident it now has a car that can take the fight to Red Bull Racing, after the positive signs that came out of Silverstone.
Although the team is fired up by the fact that Fernando Alonso delivered its first victory of the season in the British Grand Prix, Massa thinks there were even more encouraging indications that came out of the weekend.
In particular he believes the fact that the team was pretty quick in qualifying on hard tyres, a compound that had proved so difficult for Ferrari to use earlier in the campaign, shows how much of a step forward the team has made in bringing downforce to its car.
"In the last few races our pace in the race was better than in qualifying, while in Silverstone we were quick in both situations," said Massa, during a chat with fans on Ferrari's official website.
"In qualifying, I finished third in Q1 with the hard tyres, and that shows that the car is very competitive. I am sure this improvement will stand us in good stead for the second half of the season."
Alonso's victory still leaves him 92 points adrift of championship leader Sebastian Vettel in the title standings, with Massa 60 points further behind - which means that Red Bull Racing would need a run of bad luck to become genuinely threatened for the crown.
However, Massa believes the evidence of recent campaigns – especially Kimi Raikkonen's amazing turnaround against McLaren in 2007 – means there is every reason to keep pushing on for the title.
"My experience in 2008 and Kimi's in 2007 shows that anything can happen," said Massa. "Even if this year will be difficult, because Vettel would have to make a lot of mistakes."