Montezemolo says Ferrari must keep its feet on the ground despite victory
| | |
| --- | --- |
| By Pablo Elizalde | Wednesday, July 13th 2011, 08:02 GMT |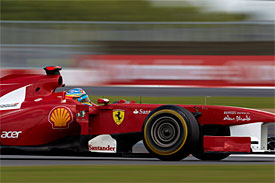 Ferrari president Luca di Montezemolo says the Italian squad must keep its feet on the ground despite its first win of the season at Silverstone.
Fernando Alonso ended a victory drought that lasted since last year's Korean Grand Prix by beating Red Bull rivals Sebastian Vettel and Mark Webber at the British Grand Prix.
Although Ferrari looked like the strongest outfit in Britain, di Montezemolo reckons the Maranello team must keep on working hard.
And, speaking to the people in the factory, the Italian said Ferrari needs to take another step forward.
"We managed to win and that is down to you and I want to thank you all for it," said di Montezemolo. "You have done well and have shown, every single one of you, how to react at a difficult time. You did not lose heart and you managed to improve in all areas.
"In Stefano Domenicali you have a boss who has proved to be a leader and the congratulations I gave him immediately after the race on Sunday are for all of you.
"Now however, we must keep our feet on the ground, which is something we are used to, given that we know what it means to win. We must take another step forward, because we want to win again this year: to succeed in that, you must all try and do your best in your daily work, trying to achieve a personal pole position."
He added: "Winning in England, at the home race for the great majority of our opponents is something special, all the more so as it happened on the day of such a significant anniversary.
"I think that even Pat Fry, for for whom this is the first win since he took on the role of Chassis Director, managed to feel the difference there is between winning with another team and doing it with Ferrari."
Team boss Stefano Domenicali echoed di Montezemolo's thoughts about staying cautious, but he is not ruling out anything despite the big gap to Red Bull.
"We have got back on our feet thanks to you, but there is still a long way to go," he said. "It's been quite a while already that we had the wherewithal to win and we managed it at a track that did not look too suited to us beforehand.
"Let us continue like this: we are a long way off the leaders, but who knows, if things go in a certain way, the air could begin to get more rarified..."