Alguersuari laments lack of top speed
| | |
| --- | --- |
| By Pablo Elizalde | Sunday, July 10th 2011, 15:16 GMT |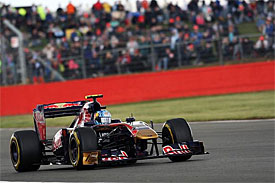 Jaime Alguersuari said his car's lack of top speed cost him at least two places at the British Grand Prix on Sunday.
The Toro Rosso driver finished in 10th position after another strong charge from 18th on the grid.
Alguersuari was adamant, however, that he was a second quicker than Nick Heidfeld and Michael Schumacher, but could not overtake them because of the lack of speed on the straights.
"I was definitely faster than Heidfeld and Schumacher, around most of the lap, as was the case in Valencia," Alguersuari said.
"But we could not make the most of this as I then lost out to them going down the straight. I'm not sure why that was the case, maybe we ran with a bit more downforce than them.
"However, I am happy for the team, who I thank for doing a good job, as getting back into the points from eighteenth on the grid was a good result after we failed to make the most of the Soft tyre in qualifying."
Team-mate Sebastien Buemi was forced to retire from the race after suffering a puncture following contact with with Paul di Resta.
"I'm a bit disappointed as I feel we could have picked up some points today," he said. "I was running at a good pace. I would like to see the footage with Di Resta again to see exactly what happened, but from the cockpit, I was on the dry line, he tried to come up the inside of me where the track surface was still very wet.
"So he could not brake as hard as if he had been on the dry and I felt an impact. He had touched my left rear tyre which shredded it. But that's racing, so it's best to forget it and start thinking about the next race at the Nurburgring."