Vettel accepts Ferrari was just faster
| | |
| --- | --- |
| By Jonathan Noble and Matt Beer | Sunday, July 10th 2011, 14:58 GMT |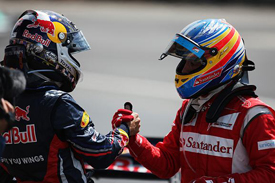 Sebastian Vettel said Ferrari defeated Red Bull fair and square in the British Grand Prix.
Although the championship leader admitted that Red Bull's slow second pitstop - which cost him the lead to Fernando Alonso on the track - had definitely hurt his chances, he admitted that Ferrari had been quicker in the end.
"I think it is hard to say how much we lost [in the pits], but we lost the lead and he had quite a bit of a cushion at that stage, so it didn't help," said Vettel.
"I came out behind Fernando and Lewis [Hamilton]. I struggled to get past. I had some places where it was quite close with him but it didn't quite work, and had a long stint at the end, but all in all it was a very good race.
"All in all mistakes here or there, but you cannot get it right all the time and I accept fair and square Ferrari beat us today.
"Not only this race, there has been a trend the last couple of races. They have been good in race pace and improving their car.
"It shows we need to keep working and keep pushing very hard and hopefully soon we'll get there again."
He said the pit issue had been that the left rear was not properly fastened at first.
"I think everything went initially according to plan," Vettel said. "It went on but I think it wasn't tight, we put the car down, back on the floor, when I saw in mirror and realised it was not done yet then they put car back up, lost a lot of time and lost position to Fernando in pit box and Lewis on the circuit."